Arts & Culture
SU Drama presents shocking ''Tis Pity She's a Whore'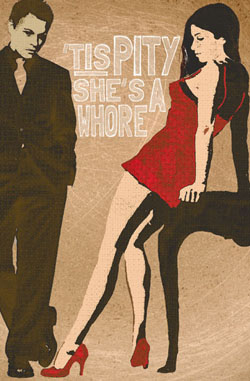 After the death of her mother, Annabella is left to face adolescence alone. When her elder brother Giovanni returns home, he propels them both into a dangerous world of sexual transgression and youthful revolt. Together they crash through the boundaries of what can be said, what can be read, what to believe, and who can be loved. This passionate Jacobean drama is as shocking and controversial today as it was almost 400 years ago.
Presented by Syracuse University's Department of Drama in the College of Visual and Performing Arts, "'Tis Pity She's a Whore" runs Nov. 2-11 in the Storch Theatre at 820 E. Genesee St. Tickets are $16-$18, available at 315-443-3275 or by visiting vpa.syr.edu/drama. SU Drama's season sponsor is WAER 88.3.
Writing in the late 1620s and 1630s, playwright John Ford is considered the most important tragedian of the reign of King Charles I (1625–49). Perhaps as a reflection of his increasingly unstable times, Ford's plays are marked by tragically frustrated characters and sensational, shocking events, typical of the Jacobean writing style of Ford and his contemporaries. With an incestuous relationship between siblings Giovanni and Annabella at its center, and violent acts of poison, sword and poisoned sword all part of the action, "'Tis Pity" fulfills the properties of a Jacobean tragedy.
Department of Drama assistant professor and director Celia Madeoy has chosen to set "'Tis Pity" in 1959, a time when the world was on the cusp of social upheavals in many respects. Rock 'n' roll was on the horizon, the role of women was beginning to change, gambling was legalized, and in Italy (the play is set in Parma), the Mafia was actively influencing local governments in cities such as Palermo, where massive redevelopment projects ruined the historic center and enriched a handful of contractors.
"The play is still incredibly shocking to this day in its ideas and expression; there seemed to be a lot of matter to explore in the repression as well as freedom of the late 1950s," says Madeoy. "Artistically, I thought it would be exciting and accessible for our students to work in this period where the youthful rebellion and restlessness of this story could be explored and offer great theatricality as well as 'a heartbeat' for the secret love and sexual awakening Giovanni and Annabella discover, pursue and defend at all costs."
For a visual vocabulary of the time, Madeoy looked not to the world of rock 'n' roll, but turned instead to the early films of Federico Fellini, especially "I Vitelloni."
"The idea of secrecy, taboo and political gain happening within the church and the Mafia at this time seemed to illuminate our storytelling," says Madeoy. "There's a decaying going on underneath the political and patriarchal systems. Fellini's early films richly explore complex relationships of lovers, family, marriage, church and rivalry, and in great ways parallel John Ford's outspoken desire to expose the repression and vice of his own people and government."
Another link to Ford and his world will be in Madeoy's staging. Jacobean plays were often performed on a three-quarter thrust stage with audience seating on three sides. For "'Tis Pity She's a Whore," the Storch Theater will be arranged in a similar configuration. "I want to allow the actors to feel the play in its natural theater setting," says Madeoy.
As with Shakespeare, Ford's plays were accompanied by live music. Set in 1959, this production hovers at "the moment where rock 'n' roll music is about to take stage and Elvis and the Beatles are set to change the course of music as we know it," Madeoy explains. "I wanted to have live music in the show in the tradition of original staging practices, and how fortunate that I could assemble a cast that can act, sing and play music."