Arts & Culture
SU, Cornell mount landmark conference devoted to philosopher Walter Benjamin Oct. 31-Nov. 2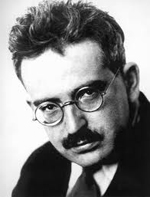 Syracuse Symposium continues its theme of "Memory-Media-Archive" with a two-day conference on the impact of the 20th-century German philosopher and social critic Walter Benjamin. Titled "Memoryscapes and Imageworlds: Archive, Architecture and Media after Walter Benjamin," the program runs Oct. 31-Nov. 2 at Syracuse and Cornell universities. It is free and open to the public.
For more information and to register, contact Karl Solibakke, associate professor of German at SU, at 315-443-5823 or ksolibak@syr.edu. The registration deadline is Friday, Oct. 26.
"Memoryscapes and Imageworlds" is organized and presented by the SU Humanities Center for The College of Arts and Sciences and the campus community. The conference is sponsored by the Central New York Humanities Corridor, funded by a grant from the Andrew W. Mellon Foundation, and is presented in conjunction with "IMAGES? Precisely!," a Transdisciplinary Humanities Project involving the SU Humanities Center and School of Architecture.
"Walter Benjamin occupies a seminal place in the public humanities," says Gregg Lambert, Dean's Professor of the Humanities and founding director of the SU Humanities Center. "His work is regularly cited in academic and literary journals, and, more than 50 years after his death, continues to inform the study of language and cultural archives, images and non-print media, architecture and cityscapes, and bodies and objects."
Benjamin (1892-1940) was a German-Jewish essayist who wrote extensively about technology, language, literature, the arts and society. Although he left behind a large amount of unfinished work, much of it has been published since the 1980s and has elicited considerable commentary. His most famous essay is "The Work of Art in the Age of Mechanical Reproduction" (1936), which continues to influence media theory and the study of film, architecture and art criticism.
The conference will focus mainly on another seminal work of Benjamin's: "Passagenwerk" ("Arcades Project"). A collection of writings about city life in Paris, it is regarded as one of the leading examples of 20th-century cultural criticism.
"We'll begin at Cornell with an in-depth exploration of the contemporary status of memory archives and the growing need to imagine new archival frameworks, networks and interfaces, as cultural and technological forces reshape the world," says Solibakke. "The program concludes at SU with a comprehensive look at Benjamin's writings on photography, images and urban and commercial spaces."
The conference schedule is as follows:
Wednesday, Oct. 31
The Leonard and Ruth Sainsbury Library, Tolley Humanities Building
Syracuse University
6:45 p.m.
Reception and Opening Remarks
Gregg Lambert, Syracuse University
Thursday, NOV. 1
English Lounge (258), Goldwin Smith Hall
Cornell University
10 a.m.
Opening Remarks
Peter Gilgen, associate professor of German studies at Cornell University
Leslie Adelson, the Jacob Gould Schurman Professor of German Studies and director of the Institute for German Cultural Studies at Cornell University
10:15 a.m.
Introduction
Peter Gilgen, Cornell University
Brigid Doherty, associate professor of art and archeology and of Germanic languages and literature at Princeton University
10:30 a.m.
"Walter Benjamin's Media"
Bernd Witte, professor of philosophy at Heinrich Heine University Düsseldorf (Germany)
11:15 a.m.
"Towards the Apokatastatic Will: Media and Eschatology in Benjamin's Late Work"
Michael Jennings, the Class of 1900 Professor of Modern Languages and professor of German at Princeton University

Noon
"Halacha and Hagada in Benjamin and Scholem"
Vivian Liska, professor of German literature and director of the Institute of Jewish Studies at the University of Antwerp (Belgium)

2 p.m.
"Benjamin and Atget"
Alexander Gelley, professor of comparative literature at the University of California, Irvine
2:45 p.m.
"Mediality and Means"
Kevin Attell, assistant professor of English at Cornell University
3:30 p.m.
"Archivologie vs. Archeology: Memory Systems in Walter Benjamin's Passagenwerk"
Karl Solibakke, Syracuse University
4:30 p.m.
"Rosemarie Trockel's Spleen"
Brigid Doherty, Princeton University

5:15 p.m.
"Benjamin, Tomorrow: Architecture, Images, Cities"
Mark Linder and Francisco Sanin, Syracuse University
6 p.m.
Closing Remarks
Peter Gilgen, Cornell University
Friday, Nov. 2
Slocum Auditorum, Syracuse University
11 a.m.
Passagenwerk Roundtable
Peter Gilgen, Cornell University; Michael Jennings, Princeton University; Karl Solibakke, Syracuse University; and Bernd Witte, Heinrich Heine University Düsseldorf

1:30 p.m.
Opening Remarks
Gregg Lambert, Syracuse University
1:45 p.m.
"Images? Precisely!" Panel
Mark Linder, Syracuse University (moderator)
"On Images and Learning Things"
Brigid Doherty, Princeton University
"The Imperceptible Image"
Mark Hansen, professor and director of undergraduate studies in literature at Duke University
"Movies, Mourning and Melancholia in the Age of their Technological Reproduction"
Tom Gunning, the Edwin A. and Betty L. Bergman Distinguished Service Professor, professor art history, and professor of cinema and media studies at The University of Chicago

3:45 p.m.
Keynote Address: "The Theology of Tabula Rasa: Walter Benjamin and 'Radical Architecture' in the 1920s"
Pier Vittorio Aureli, diploma unit master at the Architectural Association (U.K.) and co-founder of Dogma
Slocum Gallery
5 p.m.
"Datenwerk": Exhibition opening and gallery talk
Brian Lonsway, associate professor of architecture at SU, and fellow graduate students
"Memoryscapes and Imageworlds" is co-sponsored by The College of Arts and Sciences' Office of the Dean, as well as Graduate Programs at Syracuse Architecture at SU; and the Department of German Studies, Institute for German Cultural Studies and Society for the Humanities at Cornell.