Arts & Culture
SU Brass Ensemble kicks off 2012-13 season on Nov. 4 in Little Falls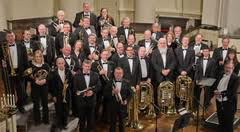 The Syracuse University Brass Ensemble (SUBE), directed by James T. Spencer, kicks off the 2012-13 season with a performance in Little Falls, N.Y. The concert is Sunday, Nov. 4, at 4 p.m. in the Holy Family Parish, 763 E. Main St., Little Falls. The event is free and open to the public; donations are accepted. For more information, call 315-443-3403, or visit Friends of SUBE on Facebook. SUBE is administered by SU's College of Arts and Sciences.
"Although we frequently perform throughout Mohawk Valley, this trip is only our second to Little Falls," says Spencer, also an SU Meredith Professor and associate dean. "The town is rich in history, and has produced many fine musicians, some of whom have played in our group. The parish is an exquisite backdrop for this kind of music." The concert features many family favorites, including music from "Lord of the Rings," "Pirates of the Caribbean," "West Side Story" and "The Muppets." Rounding out the program are light classics by Rossini, Saint-Saëns, Donizetti and others. The group is joined by trumpet soloists Jeff Stockham and Craig Elwood, the latter of whom also guest conducts.
SUBE features three dozen professional, amateur and student musicians from throughout Central New York. In addition to performing at official SU functions, SUBE presents more than a dozen public concerts a year, including the award-winning "Holidays at Hendricks," which is broadcast on WCNY TV and radio throughout New York State and southern Canada. Distinguished composers from whom SUBE has commissioned music include Robert Ward, Arthur Frackenpohl and Joseph Downing. DVDs of the ensemble are available at the SU Bookstore.