Media, Law & Policy
Ron Brownstein will explore state of political parties in next University Lecture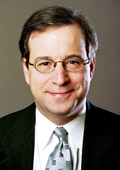 Noted political analyst and Pulitzer Prize finalist Ron Brownstein will explore the current state of American's major political parties in the next University Lecture at Syracuse University on Tuesday, Oct. 23.
He will speak on "American Politics, Today and Tomorrow" at 7:30 p.m. in Hendricks Chapel. The event is free and open to the public; parking will be available in Irving Garage. This lecture is sponsored in cooperation with the S.I. Newhouse School of Public Communications and the Maxwell School of Citizenship and Public Affairs. American Sign Language interpretation and CART will be available.
Brownstein will also address what is next for each political party, and will combine an assessment of the electoral environment with an analysis of the challenges that await the new or incumbent president.
Brownstein is political director of Atlantic Media Co. and editorial director and columnist for the National Journal. He is a senior political and election analyst for CNN and ABC. He has been a finalist for the Pulitzer Prize twice, for his coverage of the 1996 and 2004 presidential elections. He appears regularly in the Atlantic, National Journal and the Los Angeles Times, where he served as national political correspondent and columnist. He also served as chief political correspondent and columnist for U.S. News and World Report.
The Office of University Lectures welcomes suggestions for future speakers. To recommend a speaker, or to receive additional information about the University Lectures series, contact Esther Gray in the Office of Academic Affairs at 443-2941 or eegray@syr.edu.
During the fall 2012 semester, the series will also feature nutritionist and consumer advocate Marion Nestle (Nov. 13). During the spring 2013 semester, guests will include ocean rower and environmental campaigner Roz Savage (Feb. 27, 2013); Conor Grennan, founder of Next Generation Nepal (March 5, 2013), National Geographic photographer Jim Richardson (March 19, 2013); and Tony-winning playwright David Henry Hwang (April 4, 2013).