Campus & Community
Q&A with Patricia Demyan, director of the Faculty/Staff Assistance Program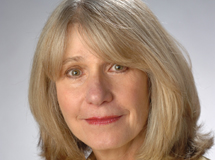 Patricia Demyan answers questions about Depression Screening Month (October). A brief online depression screening can be completed on the FSAP website. A more comprehensive screening is available in person at the FSAP office located at 111 Waverly Ave., Suite 215 (in the Health Services building). To schedule a screening, contact FSAP at 443-1087.
Q: Why is Depression Screening Month important?
A: Depression is a common, but serious, medical illness. In addition to casting a shadow over family life and making work difficult, there is mounting evidence that depression takes a serious toll on physical health. This national event is designed to increase awareness of the illness of depression, educate the public about its symptoms and effective treatments, offer the opportunity to be screened for depression and connect those in need of treatment. Depression screening provides a quick and easy way to identify the first signs of depression and reach people who might not otherwise seek professional help. The earlier treatment can begin, the more effective it is and the greater the likelihood that recurrence can be prevented.
Q: Are there people who may be affected by depression but don't know it?
A: Depression can come on gradually, without the person realizing that their life is being increasingly dominated by negative thoughts and feelings. Sometimes people with depression mistakenly believe that the symptoms of depression are "a normal part of life," and therefore never seek treatment. They can be oblivious to their own sadness or simply refuse to recognize it.
Depression may also come with physical symptoms such as unexplained aches or pains or sleep disturbance, digestive problems, headaches, etc. For many people, bodily pain is the way depression presents itself. Because these symptoms occur with many conditions, many depressed people never get help. They simply do not know that these physical symptoms might be caused by depression. Pain and other health changes can actually be the first signs of depression.
Q: How does depression affect work and personal life?
A: Untreated depression may become a chronic condition that disrupts work, family and personal life. People with untreated depression can usually get to work. But once they are there they may be less productive and reliable, indecisive and uncertain, make more mistakes or just seem less interested in work. They may call in sick or arrive late or have physical complaints including fatigue with no apparent source. Untreated depression makes it difficult for the person to work well.
At home, depressed people are unable to demonstrate affection for loved ones. They tend to avoid friends and social gatherings and are unable to derive satisfaction from activities they once enjoyed.
Q: What should a person do if the screening indicates they may be depressed?
A: It's important to note that the screening is not a professional diagnosis, but simply used to identify the absence or presence of depressive symptoms. If symptoms are present, the person should speak to a professional mental health provider or to his/her primary care physician. Left untreated, depression can become more severe and debilitating. There is growing evidence that untreated depression can contribute to or worsen other medical problems such as heart disease. The vast majority of depressed people can get better with treatment.
Q: How can FSAP help?
A: The professional staff at FSAP can provide further evaluation and make recommendations for treatment that include continued services through FSAP, a referral to mental health practitioner in the community or to the person's physician. Sometimes a person suffering from depression responds to short-term treatment, while others may need ongoing treatment and/or medication. The majority of people can be successfully treated with early recognition, intervention and support. FSAP services that are provided by licensed clinical social workers are strictly confidential and provided at no charge to employees and their families.