Arts & Culture
Pulse 2012-13 season opens Oct. 18 with momentum
Pulse Performing Arts Series opens the 2012-13 season in step with its longstanding tradition of bringing professional, internationally acclaimed dance companies to the Syracuse community. River North Dance Chicago, a jazz-based contemporary dance company, will grace the Goldstein Auditorium stage on Oct. 18 at 8 p.m. with its athletic prowess, theatrical flair and gutsy repertoire performed around the world.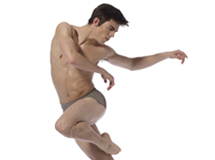 Tickets are available at the Schine Box Office for $5 for students with SU I.D.; $16 for faculty/staff/alumni/Pulse Partners; $20 for general admission. Paid parking is available in Booth and University Avenue garages for $4.
Celebrated for creating vital connections between dancer and audience, River North Dance Chicago (RNDC) presents dynamic works filled with a bold, artistic perspective. Founded in 1989, RNDC has since grown to become an internationally acclaimed company that embodies a true flavor of Americana in its versatile repertoire. Under the artistic direction of Frank Chaves, RNDC demonstrates depth and sophistication with a commitment to creating an accessible, enriching experience for audiences. Chaves aims for audiences to feel the complete spectrum of human emotions in a single evening, and leaves them feeling joyful and exhilarated at the end of each program.
"Students on the Pulse Student Advisory Board were captivated by the idea that each piece has its own personality and flavor," says Sarah Ross Cappella, associate director for the Office of Student Activities. "Each work is unique and no two pieces you see from the company are similar. The change in emotion and pace with each piece is intriguing and inspiring, and the students felt this energy needed to be shared with the Syracuse community."
The company frequents the world stage, having participated in the IV International Ballet Festival in Cali, Columbia, in 2010, the Busan International Dance Festival in Korea in 2011, and toured to Germany and Switzerland on an 11-city tour, as well as an 18-city tour throughout Russia in 2012. The company has been the subject of three documentaries produced by HMS Media for WTTW Chicago, each garnering an Emmy Award, among numerous additional nominations.
Purchase a Pulse Series Pass and save on each show
Pulse discount passes are available. The three pass levels are: General Admission, SU Faculty/Staff/Alumni and SU Student. Passes can be purchased at the Schine Box Office, 315-443-4517, or online at students.syr.edu/boxoffice/ with an additional $1.25 processing fee.