Arts & Culture
Pianist Anton Nel to present concert, master class at Setnor School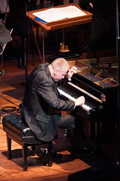 Pianist Anton Nel, whose remarkable and multifaceted career has taken him to North and South America, Europe, Asia and South Africa, will be in residence Nov. 3-4 at the Rose, Jules R. and Stanford S. Setnor School of Music in the College of Visual and Performing Arts.
Nel will hold a master class for the Setnor School's piano students on Saturday, Nov. 3, at noon in the Rose and Jules R. Setnor Auditorium, Crouse College. He will present a concert on Sunday, Nov. 4, at 2 p.m. in Setnor Auditorium. The program will include Bach's Partita No. 4 in D Major, BWV 828; Chabrier's "Scherzo-Valse" from "Dix Piéces Pittoresques"; Chaminade's "Autumne" from Études de Concert, Op. 35; Poulenc's "Caprice Italien" from "Napoli"; and Schubert's Sonata in B-flat Major, D. 960.
The master class and concert are free and open to the public. Free and accessible parking is available in the Q1 lot. Additional parking is available in the Irving Garage. Campus parking availability is subject to change; call 315-443-2191 for current information.
Nel is the winner of the first prize in the 1987 Naumburg International Piano Competition at Carnegie Hall. Following an auspicious debut at the age of 12 with Beethoven's C Major Concerto after only two years of study, the Johannesburg native captured first prizes in all the major South African competitions while still in his teens, toured his native country extensively and became a well-known radio and television personality.
Highlights of Nel's nearly four decades of concertizing include performances with the Cleveland Orchestra and the symphonies of Chicago, San Francisco, Seattle, Detroit and London, among many others. An acclaimed Beethoven interpreter, he has performed the concerto cycle several times, most notably on two consecutive evenings with the Cape Philharmonic in 2003.
Eager to pursue dual careers in teaching and performing, Nel was appointed to the faculty of the University of Texas at Austin (UT) in his early 20s, followed by professorships at the Eastman School of Music and the University of Michigan, where he was chair of the piano department. In 2000, Nel was appointed the Priscilla Pond Flawn Regents Professor of Piano and Chamber Music at UT, where he teaches an international class of students and now heads the Division of Keyboard Studies. In January 2010, he became the first holder of the new Joe R. and Teresa Lozano Long Endowed Chair in Piano at UT. Learn more about Nel at www.antonnel.com.
For more information or Setnor Auditorium concert status updates, contact the Setnor School at 315-443-2191.