Arts & Culture
Paul Taylor Dance Company, Musical Associates of CNY to present world premiere Nov. 3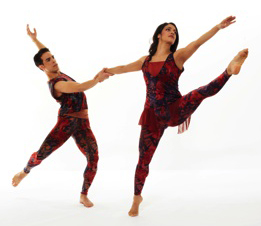 The Paul Taylor Dance Company and the Musical Associates of Central New York with Donald York, conductor, will present an evening of modern dance on Saturday, Nov. 3, at 8 p.m. in the Crouse-Hinds Theater in the John H. Mulroy Civic Center, 800 S. State St.
The evening's performance, co-presented by Syracuse University's Arts Engage, will include the dances "Musical Offering," "Offenbach Overtures" and the world premiere of "To Make Crops Grow," set to Grofé's "Grand Canyon Suite."
Tickets are $35-$60 for the general public, $25 for senior citizens and non-SU students, and $5 for groups and SU students, faculty and staff with valid I.D. Tickets may be purchased in person or by phone through the Oncenter Box Office, 315-435-2121, or online at www.ticketmaster.com. For box office information, visit www.oncenter.org.
Established in 1954, the Paul Taylor Dance Company is one of the world's most highly respected and sought-after ensembles. Dance maker Paul Taylor H'86 first presented his choreography with five other dancers in Manhattan on May 30, 1954. That modest performance marked the beginning of nearly 60 years of unrivaled creativity, and in the decades that followed, Taylor became a cultural icon and one of history's most celebrated artists, hailed as part of the pantheon that created American modern dance.
The Paul Taylor Dance Company and Taylor 2, created in 1993, have traveled the globe many times over, bringing Taylor's ever-burgeoning repertoire to theaters and venues of every size and description in cultural capitals, on college campuses and in rural communities–and often to places modern dance had never been before. The Taylor Company has performed in more than 520 cities in 62 countries, representing the United States at arts festivals in more than 40 countries and touring extensively under the aegis of the U.S. Department of State.
As the Central New York region's full-time professional orchestra, Musical Associates of Central New York presents musical performances, products and services that engage the community with music of all types, but especially classical music. Through the excellence of its performances and community education, this new symphony orchestra enhances the quality of life in Greater Syracuse and throughout the surrounding region.
For more information about the performance, contact SU Arts Engage at 315-443-0296 or SUartspresenter@syr.edu.