Arts & Culture
Organist, Poister Competition winner Katie Minion to perform Oct. 16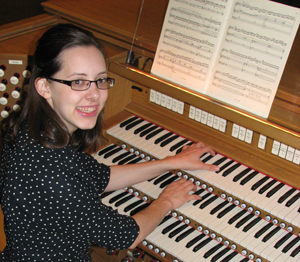 Organist Katie Minion, winner of the 2012 Arthur Poister Scholarship Competition in Organ Playing, will present an organ recital on Tuesday, Oct. 16, at 8 p.m. on the historic Holtkamp organ in the Rose and Jules R. Setnor Auditorium, Crouse College. The recital is free and open to the public. Free and accessible parking is available in the Q1 lot. Additional parking is available in the Irving Garage. Campus parking availability is subject to change; call 315-443-2191 for current information.
Minion will perform works by Bruhns, Schumann, Bach, Hindemith, Planyavsky and Vierne. Her performance is part of her first-prize award for winning the Poister Scholarship Competition, which is coordinated by the Syracuse chapter of the American Guild of Organists (AGO) and honors Poister (1898-1980), a renowned organist and Syracuse University professor emeritus. Organists younger than 30 are eligible to compete.
Originally from the Chicago area, Minion began her first musical studies on violin at age 4 and began playing organ during high school. Since then, she has won numerous awards and competitions, including first place in the Indianapolis chapter of the AGO's Regional Competition for Young Organists in 2011.
Minion's teachers include Jim Brown at the Music Institute of Chicago and Sarah Read Gehrenbeck during college. Minion is currently in her second year of study with Janette Fishell at Indiana University, where she is a Jacobs Scholar, the highest honor given to an undergraduate in the Jacobs School of Music. She was also named a Founder's Scholar in 2012, an award given to the highest academically achieving students.
Minion has concertized around the country in a variety of venues, and she was featured on the Chicago classical radio station WFMT's "Introductions" program in October 2009. Her other interests include continuing to play and teach violin, learning martial arts and studying French.
For more information or Setnor Auditorium concert status updates, contact the Rose, Jules R. and Stanford S. Setnor School of Music in the College of Visual and Performing Arts at 315-443-2191.