Campus & Community
Newly processed SU Archives collections provide look into lives of students from years past
Two newly processed collections in the Syracuse University Archives offer rare insight into the lives of students in New York State in the mid- to late 19th century and early 20th century.
The Archives has completed processing the Genesee College and Genesee Wesleyan Seminary Collections, which span the years 1830-1940. This project was made possible through a grant from The Gladys Krieble Delmas Foundation.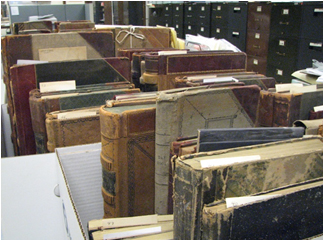 Syracuse University shares its Methodist-Episcopal roots with these two institutions, formerly in Lima, Livingston County, N.Y.  The two collections are separate, but their histories are entwined.
The Genesee Wesleyan Seminary was incorporated in 1834 as a secondary school and Genesee College in 1849 as a higher education school on the same site.  These two institutions shared buildings, with the students eating together and sometimes sharing classes.  Upon the closure of the college in 1875 due to falling enrollment and defection of both students and faculty to the newly opened Syracuse University, the seminary resumed its sole use of the buildings and continued to function as a secondary school until 1941.
The records document early co-educational secondary and higher education in New York State and provide valuable information concerning courses, tuition, discipline, students and faculty.  Much of the collections comprise bound volumes of student and departmental accounts, along with indexes of students, scrapbooks, student society programs and catalogues.  The Genesee Wesleyan Seminary Collection includes correspondence between students and the principal, including military correspondence written by students while they were serving during World War I.
Together, these materials offer a peek into the lives of students in New York State during these years.
All materials in both collections were rehoused in acid-free containers, and several items of specific genealogical interest have been digitized and can be viewed online.  Cross-referencing has been included to ease location of names within the collections.  EAD finding aids for the collections are available on the Syracuse University Archives website at archives.syr.edu/collections/org_non_su/sua_gws.htm and archives.syr.edu/collections/org_non_su/sua_gnc.htm.
For additional information please contact University Archivist Edward L. Galvin at elgalvin@syr.edu.
This story was written by Erin Lee G'12.