Media, Law & Policy
Newhouse alums produce documentary on impact of 9/11 on small town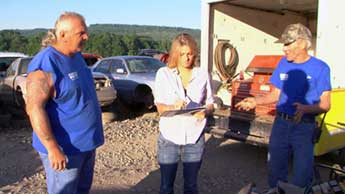 As she grew up in small-town Somerset County, Pa., S.I. Newhouse School of Public Communications alumna Laura Beachy '12 wanted to create a story that would honor the unsung heroes of United Flight 93. Taken over by terrorists, Flight 93 crashed in a grassy field in the quiet Somerset County town of Shanksville on Sept. 11, 2001, killing 40 passengers and crewmembers.
Beachy was in the sixth grade when United Flight 93 went down only 15 miles from her home, and the tragedy has impacted her and her community ever since.
The idea of the documentary "We Were Quiet Once" originated from the 10-year anniversary of 9/11. Beachy originally wanted to capture the reactions of Somerset residents to the building of a new memorial.
Beachy, a television-radio-film graduate from the Newhouse School, partnered with former classmate Cory Sage '12 to tell the untold story of Somerset through the eyes of three distinct subjects.
Beachy and Sage spent a "hefty" two months at the end of their junior year sifting through 10 years of newspaper clips on the topic of Flight 93. They used these articles to create a database of people and their stories, leading the duo to choose potential subjects.
Pre-production consisted of creating this database and applying for funding. Finally, Beachy and Sage shot the documentary from June 2011 through January 2012.
Beachy says she originally wanted to make a docuseries and capture several locals' stories. "But as we moved forward we found these three stories that really wove beautifully together," she says. The subjects' stories complemented each other and are all about the art of personal memorial.
Beachy and Sage spent the summer before their senior year in Somerset filming. They visited the crash site again on Sept. 11, 2011, the 10th anniversary of the crash, to get footage, and made additional trips back to Shanksville throughout the semester last fall.
Beachy says that many people from the town of Shanksville and the Somerset area are jaded and hesitant to talk to the media because of how much negative attention the area has received in the 10 years since 9/11. Being from the area gave her an advantage, she says.
"It was actually rather easy to be able to talk to people," says Beachy. "It didn't seem like I had an ulterior motive or agenda because I was a local."
As an anthropology dual major, Beachy also used "We Were Quiet Once" as her thesis project.
Upon graduation in May of this past year, Sage moved to Colorado and Ryan Balton '11 joined the team for post-production.
Another Pennsylvania native and TRF graduate, Balton works for ESPN in Connecticut and has the expertise Beachy was looking for to finish editing "We Were Quiet Once."
"Being in communications is not something you just do," says Balton. "It's not just a job, it's a lifestyle."
Balton works as a studio operator at ESPN, handling the operation of pedestal, jib and robotic cameras in addition to other studio functions such as lighting and video shading. He says he was excited to use his editing skills to contribute to a project creatively. "It's a labor of love," says Balton.
Beachy, Sage and Balton were heavily involved on campus during their time at SU and are thankful to the University for not only their financial help, but also their resources and support.
Both Beachy and Balton were Remembrance Scholars at SU. Balton devoted a lot of time as general manager of CitrusTV and Beachy was a University Scholar.
The Newhouse School loaned Beachy and Sage $25,000 worth of filming equipment in addition to a $5,000 grant for production. "They believe in the process, they believe in the students," says Beachy.
"We Were Quiet Once" also received a $5,000 grant from the Office of Student Activities and a $500 grant from Hendricks Chapel.
Beachy says that Dean Rosanna Grassi, Dean Lorraine Branham, Professor Sharon Hollenback and the TRF department in the Newhouse School, as well as the anthropology department in The College of Arts and Sciences and the Maxwell School, were influential players in their ability to produce the documentary.
"Yes, they gave us the equipment and the money," says Beachy. "But more importantly they gave us the encouragement and support to say we really believe in you and in this project."
Beachy intends to screen the documentary first to Somerset County residents upon its release in November.
Beachy says she is continually impressed by how the local community remembers the victims as people and heroes. "I have a newfound appreciation for my hometown and how they have dealt with the cards they've been given," she says.
A native of Milford, Pa., Balton said his father was working only a few blocks from the Twin Towers on 9/11 and that the documentary hits home with him. He hopes to screen "We Were Quiet Once" in his hometown as well.
The team hopes to have the film ready to debut in November, and they plan to bring the film to campus and film festivals after its release in Pennsylvania.
Beachy and Balton are hoping to raise additional funds for distribution. For more information on donating to the project, visit http://www.kickstarter.com/projects/1869351040/we-were-quiet-once.
Even though Beachy says the three stories they decided to feature are the interviews that are the most compelling, she believes that everybody has a story to share.
"It doesn't matter if you're in New York City, or Los Angeles, or Timbuktu, or little Somerset County," says Beachy. "Everybody has a story to tell and everyone has something that has affected them."
Emily Pompelia is a work-study student in the Office of News Services.