Arts & Culture
'Moby Dick' opens Syracuse Stage's 40th season
Alive with a soundscape of 18 authentic sea chanteys and performed by an ensemble of nine, Syracuse Stage's highly physical adaption of "Moby Dick" cuts to the core of Herman Melville's searing narrative and plays with the fury of a Nantucket sleigh ride.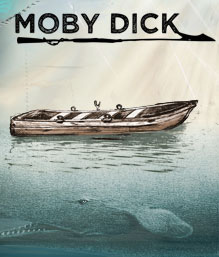 A young man seeks adventure on a whaling vessel and finds himself a pawn in an obsessive pursuit of vengeance that threatens death and destruction for all. Adapted for the stage by Julian Rad from the book by Melville, with lyrics adapted from the traditional, "Moby Dick" is directed by Peter Amster, whose previous Syracuse Stage credits include Alfred Hitchcock's "The 39 Steps," "This Wonderful Life" and "The Fantasticks." "Moby Dick" runs Oct. 10—Nov. 4 in the Archbold Theatre at Syracuse Stage, 820 E. Genesee St. Tickets range $30-$51 for adults and $18 for age 18 and under. Tickets are available at the Syracuse Stage Box Office, 315-443-3275 or www.SyracuseStage.org.
Sponsors for Moby Dick are Lockheed Martin, Pomco Group and Alliance Bank. The media sponsors are WAER and WCNY. Syracuse Stage season sponsors are the Post-Standard and Time Warner Cable.
Rad's adaptation of "Moby Dick" premiered in New York City in 2003. The work received critical acclaim, praised for its spare yet faithful treatment of Melville's 1851 novel. Rad's "Moby Dick" was the first Off-Off Broadway play ever to be nominated for a Drama Desk Award for Outstanding Play, an award typically reserved only for Broadway and Off-Broadway shows. A "play with music," the adaptation includes 18 authentic sea chanteys sung mostly a cappella.
The sea chanteys mentioned throughout Melville's book "became something I grabbed onto and gravitated towards," says Rad. "Music is such a wonderfully creative device, especially in the theater, where it gives us an opportunity to build the action." Director Peter Amster believes it is the music—along with lighting, sound and movement that will help to convey "the incomprehensibly huge scale of the events of this story." Amster notes, "There is also the task of trying to give an audience a visceral sense of the strenuous activity that is necessary to operate a whaling vessel—hauling, managing sails, raising anchors, climbing rope ladders, to name a few—without the real equipment and rigging needed to carry out these gestures. So a theatrically heightened language of movement has to be developed, one that gives the audience a sort of behavioral metaphor for the effort, the struggle, the physical cost of performing those tasks." Amster hopes these large theatrical gestures will trigger the audience's imagination to "see" the events as they unfold and feel what that experience might have felt like for those who lived them.
In the play, as in the novel, a sailor called Ishmael learns of Captain Ahab's desire to seek revenge upon a white sperm whale named Moby Dick, which destroyed the captain's boat and bit off his leg in a previous encounter. Captain Ahab is relentless in his pursuit, even at the expense of the sailors' safety, threatening destruction for everyone aboard. The captain's first mate, Starbuck, is alone in questioning the captain's motives. In the Syracuse Stage production, the role of Starbuck will be played by Ithaca resident David Studwell. The role of Captain Ahab will be played by Chicago-based actor Kurt Ehrmann. Erik Hellman, who will perform as Ishmael, is also a Chicago-based actor.
Throughout the run of "Moby Dick," an exhibition created by the Onondaga Historical Association will be displayed in the Stage lobby. In words and historical images, "Discovering Hidden Stories of Syracuse … Tied to American Whaling" depicts Syracuse in the early 1850s, at the time "Moby Dick" was first published. The exhibit covers the history of the use of whale oil in 19th-century Syracuse homes and industry; the story of Enoch Reed, a fugitive slave with ties to Syracuse; the historic "Jerry Rescue"; "Moby Dick" author Herman Melville, and the tragic tale of Burr Burton, a young whaler from Syracuse. More information on the exhibit can be found at www.cnyhistory.org/.
Free pre-show talks, led by a member of the cast, will precede the show, one hour prior to curtain, for all performances except the Wednesday matinee and Opening Night on Oct. 12.
A M&T Bank Pay-What-You-Can Dress Rehearsal will take place on Tuesday, Oct. 9, at 7:30 p.m. There is a $9 suggested donation to watch the final dress rehearsal. Tickets available at the Syracuse Stage Box Office on day of show starting at 10 a.m. For info, call 315-443-3275.
Special events include:
Friday, Oct. 12—Post-show party will be held in the Sutton Pavilion following the 8 p.m. Opening Night performance, featuring live music by the Melissa Gardiner Trio.
Saturday, Oct. 20— Sign interpreted performance at 3 p.m.
Wednesday, Oct. 24—Wednesday @ 1 Lecture Series will feature Ann Ryan, chair of the English department at LeMoyne College. The 2 p.m. performance will be open captioned.
Saturday, Oct. 27—The 3 p.m. performance will be audio described. Patrons who are blind or visually impaired may pick up an infrared audio receiver upon arriving at the theater, and during the performance a live narrator will verbalize visual details about the actors and scenic elements. Due to limited availability, audio receivers must be reserved in advance at the box office, 443-3275.
Sunday, Oct. 28—The 2 p.m. performance will be open captioned. There will be an opportunity to meet the actors after the 7 p.m. performance.