Media, Law & Policy
Memorial service for T.E. Koshy will be held Oct. 13 in Hendricks Chapel
Hendricks Chapel will host a memorial service for T.E. Koshy, SU's evangelical chaplain for more than 40 years, on Saturday, Oct. 13,at 11 a.m. in the main chapel. Members of the Syracuse University and greater Syracuse communities are welcome to join the celebration of Koshy's life and ministry. A small reception will follow in Heroy Auditorium.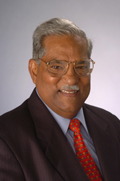 Koshy, 78, passed away on Aug. 28 following a long illness. He had been a member of the Syracuse University community since 1965, when he first arrived on campus as a graduate student.
A native of India, Koshy received degrees in literature, philosophy and theology in India and England. He received a master's degree in journalism and Ph.D. in mass communications from the S.I. Newhouse School of Public Communications. He was a journalist in the White House Press Corps during the administration of President Lyndon Johnson.
At SU, he founded the evangelical chaplaincy and served as its chaplain for 40 years. The evangelical chaplaincy was best known for its weekly Friendship Luncheons at Hendricks Chapel where more than 100 students would gather from many faiths and many countries would gather for food and fellowship. In his role as chaplain, Koshy was also instrumental in the founding of Hendricks Chapel's annual International Thanksgiving Dinner.
His ministry had an international reach—to Europe, Asia and Australia—but he also served the Syracuse community faithfully for nearly 45 years. He was founder and senior pastor of International Assembly in Syracuse, founder and executive director of the Syracuse-based International Friendship Evangelism (IFE) and served as the general secretary of the Billy Graham Crusade in Syracuse in 1989.
He embodied his faith through a ministry of hospitality, service, compassion and love. In his last interview, he said "what modern technology and diplomacy cannot accomplish, true love can. … It breaks down walls of prejudice and hatred and builds bridges of relationship and understanding."
Koshy was the author of the biography of Christian evangelist Brother Bakht Singh of India and was one of his close associates. He co-authored "The Invested Life: Making Disciples of All Nations One Person at a Time" with Joel C. Rosenberg, whom he mentored.
Surviving are his wife, Indira Koshy; his son and daughter-in-law, Jay and Susi Koshy; grandchildren Joshua and Sophia; four brothers, M.E. Eapen, T.E. George, T.E. Abraham and T.E. Cherian; and a sister, Annamma Koshy Varghese.
Services were held on Sept. 1 at North Syracuse Baptist Church.