Arts & Culture
'Tribal fusion' dancer and anthropologist explore collective identity of the arts Oct. 18 at SU
Event follows keynote address by undersecretary of state for public diplomacy and public affairs

Syracuse Symposium, whose theme this fall is "Memory-Media-Archive," continues with a joint program featuring a dance performance by Donna Mejia and a lecture by anthropologist William Beeman. The event, titled "The Negotiation of Power, Transnationalism and Collective Identity in the Performing Arts," is Thursday, Oct. 18, at 7 p.m. in Hergenhan Auditorium in Newhouse 3. It is free and open to the public. For more information, call 315-443-5708, or visit syracusehumanities.org.
"The Negotiation of Power" is sponsored by the SU Humanities Center in The College of Arts and Sciences and by the Association of Public Diplomacy Scholars (APDS) in the Maxwell and Newhouse schools. Additional support comes from the Graduate Student Organization, the Moynihan Institute of Global Affairs in the Maxwell School and the Phi Beta Delta honor society.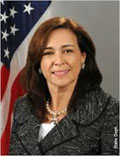 The event is also part of APDS' annual symposium, "The Politics of Change," taking place Oct. 18-19 in Hergenhan Auditorium. The symposium begins at 4 p.m. with a keynote address by Tara D. Sonenshine, undersecretary of state for public diplomacy and public affairs, on the role of public diplomacy in modern statecraft. This lecture is also free and open to the public.
"'Negotiation of Power' will explore transnational identity and communal values through digital technologies" says Gregg Lambert, Dean's Professor of the Humanities and founding director of the SU Humanities Center. "Donna Mejia is an accomplished dancer and choreographer whose work draws on new fusion traditions in world electronica. William Beeman, in turn, is an accomplished singer who also is an expert on Middle East culture and social patterns. Together, they will highlight the interconnected nature of intercultural dialogues in international affairs."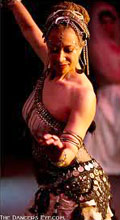 Mejia is assistant professor of dance at the University of Colorado at Boulder. She has served as artist-in-residence at more than a dozen institutions throughout the country, and has held leadership positions with numerous arts organizations, including the award-winning Harambee Dance Company.
As a performer and choreographer, Mejia specializes in "tribal fusion," an emerging genre of dance combining Arab, African and nomadic traditions with American hip hop and electronica. She also is among a handful of artists authorized to instruct the Brazilian Silvestre Modern Dance Technique, an esoteric, codified system of contemporary dance.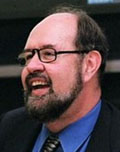 Beeman is professor and chair of anthropology at the University of Minnesota. Much of his research has involved sociolinguistics and the semantics of interaction, as well as crosscultural comparisons of theatrical and performance genres. More recently, he has delved into neuroscience and cognition vis-à-vis music and theatrical performance.
In addition to being an expert on the Middle East and Central Asia, Beeman is an internationally sought-after operatic singer.
"The program will trace the evolution of culture, through the interaction and exchange of ideas and practices among culturally distinct groups," adds Lambert. "As governments and foreign publics interact with one another, they exchange messages about their cultural values and traditions."