Arts & Culture
Mary Karr headlines next Raymond Carver Reading Series presentation Nov. 7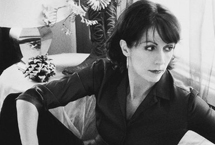 Critically acclaimed, best-selling memoirist Mary Karr will present the next installment of the Fall 2012 Raymond Carver Reading Series, Wednesday, Nov. 7, at  5:30 p.m. in Gifford Auditorium in Huntington Beard Crouse (HBC) Hall.  The reading will be preceded by a question-and-answer session from 3:45-4:30 p.m. The event is free and open to the public. Parking is available in SU's paid lots. Karr's presentation is co-sponsored by SU's College of Arts and Sciences Writing Program's Nonfiction Reading Series.
In addition to her prose, Karr is an award-winning poet. She was a named a 2004 Guggenheim Fellow in poetry and has won Pushcart prizes for both her poetry and her essays. Karr is the author of "Lit" (2009), the long-awaited sequel to her critically acclaimed and New York Times bestselling memoirs "The Liars' Club" (1995) and "Cherry" (2001). She recently collaborated with Grammy-winning singer-songwriter Rodney Crowell on a new album, "Kin: Songs by Mary Karr & Rodney Crowell," featuring songs about growing up in Texas during the 1950s."
A born raconteur, Karr brings to her lectures and talks the same wit, irreverence, joy and sorrow found in her poetry and prose. Karr is a professor of creative writing in SU's College of Arts and Sciences and has presented distinguished talks at prestigious universities, libraries and writers' festivals, including Harvard University, Oxford University, Princeton University, Brown University, the New York Public Library, the Los Angeles Public Library, the Folger Library (Poetry Society of America/Emily Dickinson Lecture), the New Yorker Literary Festival, PEN/Faulkner and the Festival of Faith and Writing. Karr welcomes conversation with her audience and is known for her spirited, lively and engaging Q&A sessions.
Fall 2012 Series Schedule
The series will continue with the following authors. Further information is available by calling (315) 443-2174.
Nov. 28: Rodney Crowell, a Grammy Award-winning musician and songwriter and author of "Chinaberry Sidewalks" (2011). His latest album, "Kin," features lyrics co-written with Mary Karr and guest appearances by award-winning country music artists.
Dec. 5: Adam Levin, award-winning author of "The Instructions" (2010), teaches creative writing at the School of the Art Institute in Chicago.