Ad executive Lisa Unsworth '84 to speak at Newhouse
Lisa Unsworth '84, managing partner and chief marketing officer with Arnold Worldwide, will visit the S.I. Newhouse School of Public Communications on Friday, Oct. 5. She will speak at 10:30 a.m. in Room 251, Newhouse 3. She is a guest of the Eric Mower Advertising Forum.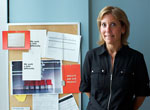 Unsworth drives Arnold's marketing engine, stewarding the Arnold brand around the world, mining new business opportunities, directing public relations activities and bringing innovative thinking to the company's marketing practices. Under her leadership, Arnold has enjoyed the best new business run in the company's history.
Unsworth was instrumental in helping Arnold win and manage the high-profile American Legacy truth campaign, which has driven down youth smoking by 52 percent since its launch in 2000. Her work in health communications includes tobacco control programs for the Federal Drug Administration (FDA), the Centers for Disease Control (CDC) and the Massachusetts Department of Public Health.
A 20-year advertising veteran, she began her career at Saatchi & Saatchi on the General Mills account. She then moved to Boston to join Della Femina McNamee and three years later joined start-up Houston Herstek Favat, helping to propel the agency with account wins like Fidelity, NEC and Castrol Motor Oil. As president of Houston, she engineered its successful 1998 sale to Arnold, where she became a managing partner. In 2001, she took a two-year hiatus from the agency to serve as president of the Boston Ad Club.
The event is free and open to the public. For more information, contact Karen Greenfield at 315-443-2304 or kegreenf@syr.edu.