Arts & Culture
Light Work announces new exhibition, Shen Wei's 'I Miss You Already'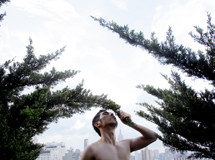 Light Work has announced the exhibition "I Miss You Already," featuring the work of Shen Wei. Wei explores the cultural and emotional boundaries of self-portraiture by placing himself into various (urban and landscape) environments. The portraits are created in response to a place. They address the social taboos and issues of globalized beauty surrounding the male nude in contemporary China. The exhibition will run Nov. 5-Dec. 14, with a gallery reception Nov. 8 from 5-7 p.m.
According to Wei, "Inspired by my conservative upbringing in China, 'I Miss You Already' is a self-portrait project that reveals the process of self-reflection and self-discovery. It is a provocative way to explore my sense of security through understanding the tension between freedom and boundaries. While this project is my awakening response to liberation and hope, it also represents a universal search for our place in nature and society."
Wei has exhibited his work internationally at venues such as the Museum of the City of New York, the Philadelphia Museum of Art, the Lincoln Center Avery Fisher Hall, the Harn Museum of Art and the CAFA Art Museum in Beijing. Wei's first monograph, "Chinese Sentiment," was published by Charles Lane Press in 2011. His photographs have also been featured in publications such as The New Yorker, Aperture, ARTnews, PDN, American Photo and Chinese Photography. His work is included in permanent collections of the Museum of Modern Art, the J. Paul Getty Museum, the Philadelphia Museum of Art, the Museum of Contemporary Photography, the Museum of Fine Arts St. Petersburg, the Library of Congress, the Florida Museum of Photographic Arts, the Museum of Chinese in America, the Rockefeller Brothers Fund and Kinsey Institute. Wei holds an M.F.A. in photography, video and related media from the School of Visual Arts, New York; a B.F.A. in photography from Minneapolis College of Art and Design; and an A.A. in decorative arts from Shanghai Light Industry College. He is represented by Daniel Cooney Fine Arts in New York.
Also on view at this time is the Light Work Grants exhibition, featuring the work of the 2012 Light Work Grant winners Dennis Krukowski, Tice Lerner and Sayler/Morris.