Veterans
IVMF's Schmeling participates in annual U.S. Business Leadership Network conference and expo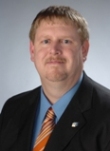 James Schmeling, managing director and co-founder of the Institute for Veterans and Military Families at Syracuse University (IVMF), will participate in the 2012 U.S. Business Leadership Network (USBLN) 15th Annual Conference and Expo in Orlando, Fla. The IVMF and the USBLN announced a formal partnership in August, focused on advancing service-disabled veterans in employment and entrepreneurship through supplier diversity certifications and innovative employment programs with business and industry partners.
Schmeling will moderate a breakout session on veterans, "Recruiting, Hiring, Retaining and Advancing Wounded Warriors."
The session will focus on the business case for hiring a veteran, including veterans with disabilities, or "wounded warriors," based on studies that suggest a robust, specific and compelling business case for hiring individuals with military background and experience. Panelists will discuss practices in employing veterans with disabilities—including recruiting, hiring and educating managers and coworkers—and practices related to EAPs, resource and affinity groups, accommodations and related topics. The inclusion of academic, business and military leaders will ensure robust discussion and resources for conference participants to take back to their companies. The session will also provide opportunities for USBLN member companies and attendees to begin sharing leading practices for employment with each other, continuing peer-to-peer networking
Schmeling will serve as a panelist on a breakout session on supply chain (diverse suppliers and corporate representatives), "The Value of Certification–Making Certification Work for You." The session will focus on the need for and value of certification, often questioned by the very groups it is intended to support. Panelists will discuss certifying as a disability entrepreneur- (including service-disabled veteran-), woman- or LGBT-owned firm, and how businesses are able to address concerns of qualifiers and business legitimacy and concentrate their efforts on discussing their business capabilities and proven performance with corporate decision-makers.