Imagining America: Art as Civic Engagement
Kevin Bott is beaming. It's 20 minutes before show time and he warmly welcomes a visitor to the Saturday night performance.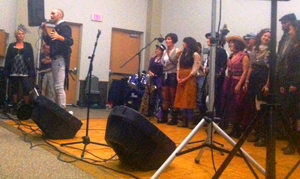 "We are a tent revival for freedom and democracy," he explains. This doesn't do it justice.
Over the next two hours, Kevin's alter ego, the Rev. Dr. Ebenezer Abernathy, sings, preaches and uplifts hundreds of federal credit union employees and Syracuse community members. His group is called "The Dream Freedom Revival of Central New York" and its high-energy performance has people in the audience clapping along.
But the Rev. Ebenezer Abernathy wants them to do more than just clap.
"We ask the audience to come on stage with us and talk about the issues that matter to them and the world they want to live in," Bott says. "On stage, they articulate a vision of the world they want to see and consider their responsibility for bringing that vision to reality."
Kevin is a performer and engaged citizen at heart and an educator by trade, and he combines these aspects as associate director of Imagining America: Artists and Scholars in Public Life.
Imagining America is a national consortium of nearly 100 colleges and universities dedicated to advancing the public and civic purposes of the arts, humanities and design. Headquartered at Syracuse University, the Dream Freedom Revival's performance is one example of what Imagining America is all about—in Central New York and across the country.
But it's only a starting point. Imagining America is about enabling people to become engaged in democracy, with education playing a key role.
"The rich connections between campus and community can be furthered by the full range of disciplines," says Timothy K. Eatman, who serves as co-director of Imagining America and a faculty member within the department of higher education in the School of Education. "Imagining America pays special attention to the often overlooked but significant contributions of the public humanities, arts, and design fields to both advancing learning and growing democracy."
Back inside the room that has become the Dream Freedom Revival's "tent," members of the audience both young and old are enjoying the performance. The real test is yet to come.
Half an hour into the show, Ebenezer invites audience members to come forward and take the mic. He encourages them, describing their work at the Cooperative Federal Credit Union as life changing in providing necessary funds to community members to purchase homes or attend college.
His words resonate with the crowd.
Several people approach the stage area and take the mic. One woman talks about her years of service in the credit union. Another employee describes his wonderful coworkers. Very slowly, there is an understanding among participants about what's happening here: they are becoming actively engaged in this performance about community.
Art is turning into civic engagement.
There's also something else taking place: learning.
"Our best and deepest learning comes from doing things and being engaged in creative public work with others," says Scott Peters, co-director of Imagining America and SU professor in the Cultural Foundations of Education program. "Imagining America is part of a growing movement that seeks to organize and deepen civic learning through a variety of cultural and political initiatives. We seek to build and sustain pursuing how to make these experiences stronger to produce better learning and better outcomes. These experiences are dependent on campus-community partnerships that are equitable, just and productive."
Such partnerships will be the main focus of discussion during the national conference for Imagining America, which takes place in New York City Oct. 5-7. The theme is "Linked Fates and Futures: Communities and Campuses as Equitable Partners?"
Based on The Dream Freedom Revival's performance and the community participation, there's significant potential for communities and campuses to work together for the betterment of both.
The DFR is putting up its tent revival for freedom and democracy this Saturday night at The Performance Project at University Settlement, 184 Eldridge St., in New York City. Click here for details dreamfreedomrevival.org/2012/09/06/one-night-two-revivals/.