Campus & Community
Meet the IDEA Connectors
Entrepreneurship is not bound by one discipline.  In fact, entrepreneurial success often requires collaboration across disciplines and skill sets.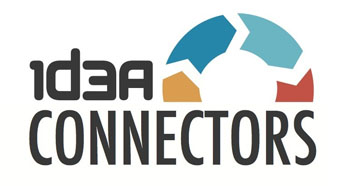 In February 2012, Tory Gentes (SU '10, Engagement Fellow 2010-11) was hired by Syracuse University as the Student Entrepreneurial Consultant.  Gentes' role is to act as the "feet on the street," observing, talking, listening and building relationships with SU's key stakeholders: students.  The goal is to ensure that the student voice is at the table when key decisions impacting the entrepreneurial ecosystem at SU are made.
The momentum for the student voice for entrepreneurship has now increased exponentially.  The IDEA Connectors, a group of 16 students from almost every school and college at SU, ignite entrepreneurship in their home school/college and act as a bridge between their discipline and other disciplines on campus.  The 16 Connectors were chosen from a pool of more than 50 applicants.
"The number of applications for the Connectors was eye opening.  It's obvious that students across campus are interested in entrepreneurship," says  Gentes.  "Each IDEA Connector takes on responsibility for spreading entrepreneurship in their own school or college, which can mean making class visits or holding idea jams, and also for a project in which Connectors work together, like the frozen flash mob they held on Sept. 19."
With the creation of the Connectors, entrepreneurship truly has cross-campus representation; the IDEA Connectors give a voice to each school/college at SU.  Connectors are the eyes and ears of their peers while also spreading the word about the resources available at SU for students to start ventures.
All students interested in entrepreneurship (for-profit and nonprofit ventures) are encouraged to connect with their student entrepreneurial representative.  Representative contact information can be found on the IDEA Connectors page of the IDEA website.
The 2012-13 IDEA Connectors are:
Emily Ballard, sophomore international relations and public policy major in The College of Arts and Sciences (A&S);
Janessa Bonti, junior nutrition science major (pre-med track) in the David B. Falk College of Sport and Human Dynamics, with a minor in painting;
Roarke Clinton, fifth-year industrial and interaction design major in the College of Visual and Performing Arts (VPA), with a completed minor in architecture, an intern at StartFast, a startup incubator and accelerator in downtown Syracuse, as the in-house user interface designer;
Dan Cowen, senior political science major in A&S;
Anna Ebers, doctoral candidate in environmental and energy economics at the SUNY College of Environmental Science and Forestry;
Nate Forer, sophomore aerospace engineering major at the L.C. Smith College of Engineering and Computer Science (L.C. Smith College);
Scott Friedberg, junior entrepreneurship and emerging enterprises and accounting major at the Whitman School of Management;
Sam Giber, senior economics major in A&S;
Chris Guimarin, junior communications design major in VPA;
Katie Jeremko, senior industrial and interaction design major in VPA and information management and technology major in the iSchool;
Jake Magida, junior information management and technology major at the iSchool;
Caitlin Moriarty, master's degree candidate in arts leadership in A&S;
Katherine Najera, sophomore finance and entrepreneurship major in the Whitman School;
Porsche Nichols, second-year MBA/MS concentrating in marketing at the Whitman School and new media management at the S.I. Newhouse School of Public Communications;
Tony Shaw, master's degree candidate in civil engineering in the L.C. Smith College; and
Ryan St. Pierre, junior mechanical engineering major in the L.C. Smith College.
To learn more about the IDEA Connectors, contact IDEA (idea@syr.edu or 315.443.7086).