STEM
Guest lecturer to address moral impact of climate change on Nov. 9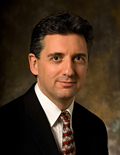 Ethics and climate change is the theme of an upcoming lecture in Syracuse University's College of Arts and Sciences. Stephen Gardiner, a renowned philosopher at the University of Washington in Seattle, will discuss "Geoengineering and Moral Schizophrenia" on Friday, Nov. 9, at 4 p.m. in the Kilian Room (500) of the Hall of Languages. The lecture is free and open to the public, and is followed by a light reception. For more information, call the college's philosophy department at 315-443-4501.
The lecture is organized and presented by the new Integrated Learning Major (ILM) in Ethics.
"Professor Gardiner's research lies at the intersection of human rights, climate economics and the ethics of geoengineering," says SU's Ben Bradley, associate professor and chair of philosophy, as well as director of the ILM in Ethics program. "Anyone with an interest in global justice, as well as environmental science and policy, will surely find the discussion compelling."
Gardiner's lecture is expected to draw from his critically acclaimed book "A Perfect Moral Storm: The Ethical Tragedy of Climate Change" (Oxford University Press, 2011), which sheds new light on environmental ethics.
One of the big "storms" that makes society vulnerable to corruption, he argues, is the temptation to pass on the cost of climate change to poorer, weaker citizens of the world and to future generations. Another "storm" is society's general ignorance of science, international justice and the physical environment—something that ultimately leads to inaction.
"We are engaging in willful self-deception, where the lives of future generations, the world's poor and even the basic fabric of life on the planet is at stake," writes Gardiner, professor of philosophy and the Ben Rabinowitz Endowed Professor in Human Dimensions of the Environment at UW. "We should wake up to this profound ethical failure, and demand more of our institutions, our leaders and ourselves."
An expert in ethics, political philosophy and environmental ethics, Gardiner is also a scholar of ancient philosophy, bioethics and the philosophy of economics. He has written numerous articles and essays, and has edited the books "Climate Ethics: Essential Readings" (Oxford Univeresity Press, 2010) and "Virtue Ethics: Old and New" (Cornell University Press, 2005). Gardiner earned a Ph.D. in philosophy from Cornell.