Gina Soliz wins financial aid administration award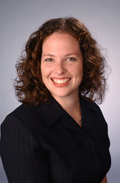 Gina Soliz, director of financial aid for Syracuse University College of Law, recently won a Citation of Appreciation from the New York State Financial Aid Administrators Association (NYSFAAA). NYSFAAA recognized Soliz for her recent work coordinating the redesign of the NYSFAAA website, as well as in appreciation for her many years of dedicated service.
 Soliz has served as director of financial aid at the College of Law since 1999.  She has been active in state and regional financial aid associations for over 15 years, and has recently completed her second term as secretary of the NYSFAAA.  Additionally, she has worked on statewide committees, such as the NYSFAAA Long Range Planning Committee and as the Region 3 representative on its executive council.  An active member of the Eastern Association of the Student Financial Aid Administrators, Soliz served twice on the Graduate and Professional Concerns Committee (2008-09 and 2009-10) and the EASFAA Conference Planning Committee in 2009.
"It is an honor to be recognized by my peers. Over the years, NYSFAAA has provided me with many professional development opportunities," she says. "It was a pleasure to serve on NYSFAAA's Executive Council and to work alongside an extremely committed and enthusiastic group of people."
As a frequent speaker at state, regional, and national conferences, Soliz has presented sessions on Loan Repayment Options, Financial Literacy, Financing a Legal Education in Tough Economic Times, Graduate PLUS Loans and Adverse Credit, Counseling Techniques and Staff Training to Evaluation.
Soliz earned a bachelor's degree in English and a master's degree in higher education administration from SU.