Arts & Culture
Getting to Know: Tere Paniagua, executive director of cultural engagement for the Hispanic community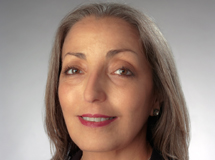 For several years, Tere Paniagua has been the managing director of Punto de Contacto/Point of Contact, a nonprofit organization supported by Syracuse University's College of Arts and Sciences, and by the New York State Council on the Arts. The Point of Contact Gallery, along with its publications and art education programs, are looked at as primary portals for cultural and artistic activity engaging Hispanics on and off the SU campus. Since 2003, she has also taught Spanish courses as an adjunct faculty member in the Department of Languages, Literatures and Linguistics, particularly one of her own design, "Hispanic Journalistic Practices."
Now, Paniagua has the opportunity to engage a much wider array of programs and audiences, as the first executive director of cultural engagement for the Hispanic community. This position was newly created by The College of Arts and Sciences.
"I liked the idea that I would be able to continue to work on many of the projects that I am presently involved with," Paniagua says, "and yet I see this as a great opportunity for growth." She sees her job as pulling together resources that already exist on campus and in the community, but that currently function separately.
Paniagua has a long, on-and-off history with SU and the City of Syracuse. She graduated from Newhouse in 1982 with a degree in telecommunications, and went on to work as a reporter and eventually chief editor for the largest publishers of newspapers and magazines in the Caribbean market. She also worked in public relations in New York City and as a cultural correspondent in Los Angeles.
About 10 years ago, seeking a change that would allow her to better balance her career with family life, Paniagua returned to Syracuse. At first, she assisted English Professor Silvio Torres-Saillant, then director of Latino/Latin-American studies, in creating that program's first website and a publication, SU Latino. Then in 2004, she began her work at Point of Contact as senior editor.
In her new position, Paniagua will continue to be involved with Point of Contact, and will also directly oversee La Casita Cultural Center, an artistic and educational center on the Near Westside of Syracuse. This program, also supported by The College of Arts & Sciences and Chancellor Nancy Cantor, has been open for just over a year. "I'm absolutely in love with it," Paniagua says. "When something is that new, you see lots of things you want to develop."
Paniagua has also been involved with the local Hispanic community through collaborative programs with the Spanish Action League. She points out that the local Hispanic community is actually made up of distinct groups with unique experiences, talents, interests and cultural backgrounds. Part of her job, she says is to work to find common ground for all.
Paniagua is now in the process of developing the structure and objectives for her new position. "But this is all very new," she admits. "I have more questions than answers at this point."