Arts & Culture
Folk arts curator to discuss quilts as visual discourse of conflict, reconciliation and memory Oct. 22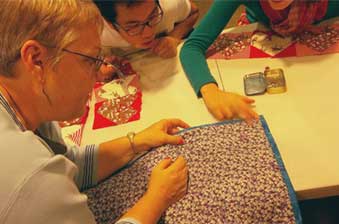 Syracuse Symposium, whose theme this fall is "Memory-Media-Archive," continues with a presentation on the social significance of traditional material culture. Marsha MacDowell, professor of art and art history at Michigan State University, will speak on "Piercing Peace: Quilts As Visual Discourse of Conflict, Reconciliation and Memory" on Monday, Oct. 22, at 7:30 p.m. in Maxwell Auditorium. The event is free and open to the public. For more information, call 315-443-5708 or visit syracusehumanities.org.
The event is organized and presented by The Syracuse University Humanities Center for The College of Arts and Sciences and the campus community. Co-sponsors are the Hendricks Chapel Quilters and the Department of Anthropology.
"We are honored to present Marsha MacDowell, who has more than 30 years' experience documenting folk and traditional arts as community-based expressive culture," says Gregg Lambert, Dean's Professor of the Humanities and founding director of The SU Humanities Center. "She is an accomplished publicly engaged scholar who has increased our understanding of and access to traditional arts material."
MacDowell's presentation will cover the production, meaning and use of traditional material culture, particularly among Asian Americans, Native Americans, South Africans and women. In particular, she will examine the social impact of quilting, a sewing method done to join two or more layers of material together to create thick padded material.
"Pieced and patched textiles have long played roles in personal testimonies and public discourse about individual and collective experiences with conflict," says MacDowell, who also serves as curator of folk arts at the MSU Museum and director of the Quilt Index. "My lecture will examine the history and meaning of this aspect of material culture production, and will highlight specific visual examples and their associated stories."
MacDowell is founding editor of the H-Quilts online discussion forum, a founding board member of The Alliance for American Quilts, past president of The American Quilt Study Group, coordinator of the Michigan Traditional Arts Program (a statewide partnership between the MSU Museum and Michigan Council for Arts and Cultural Affairs), a founding faculty member of the Museum Studies Program at MSU, executive board member of the American Folklore Society and a member of the editorial board of the international journal Museum Anthropology.
Her current research projects include South Africa quilt-making; historical and contemporary Great Lakes Native quilting, quillwork and basket-making traditions; the impact of the 1930s-era "The Detroit News Quilt Show" and WWJ radio quilt show on quilt-making in Michigan; the history and meaning of Michigan community history quilts; the development of Native basket-making organizations in the United States; the late 20th-century quilt revival in the United States.
Launched in 2001, Syracuse Symposium has become a fall tradition at SU, drawing thousands of people to free lectures, panel discussions, performances and exhibitions built on annual themes. Past symposia include "Identity," "Conflict: Peace and War," "Migration," "Justice" and "Light."
The SU Humanities Center, founded in 2008, fosters public engagement in the humanities, and is home to the Central New York Humanities Corridor; the Watson Visiting Collaborator and Jeanette K. Watson Distinguished Visiting Professorship programs; the HC Mini-Seminar and Syracuse Symposium Seminar series; and other research initiatives, annual fellowships and public programming.