Family Weekend 2012 to energize campus Friday through Sunday
Parents and family members of Syracuse University students will be joining the campus community this weekend, from October 5-7, for Family Weekend 2012. This year, more than 4,000 people and 1,300 families will be attending, representing more than 37 states, including Montana, Nevada and Arizona, as well as Puerto Rico, and three other countries (Canada, Great Britain, and Switzerland).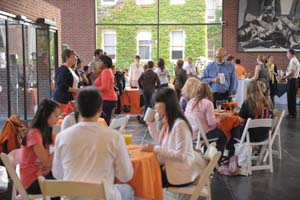 "Family Weekend provides an opportunity for parents and family members in the states and abroad to connect with their student in their environment, as well as experience the festive atmosphere and school spirit of a home football game in the Carrier Dome," says Colleen Bench, assistant vice president for the Division of Student Affairs and director of the Parents Office. "For many family members, this is their first visit to campus and the time when they are able to see their student in their new 'home away from home.'"
Since 1953, Family Weekend has been a signature tradition on campus, and has been coordinated by the Parents Office since 1972. It provides loved ones with an opportunity to meet their student's dean and faculty members, attend campus lectures and events, enjoy meals together in the dining facilities, visit community establishments, and cheer on the Orange at sporting events—all that make up the vibrant and diverse campus-life experience at Syracuse University.
On Friday and Saturday, the Parents Office will have a hospitality suite located in the Panasci Lounge at Schine that will have campus-wide information and materials available to family members. Throughout the weekend, attendees and their student will be able to participate in a variety of information sessions, cultural events in the community and recreational activities throughout campus.
Other highlights to this year's programming includes the WellsLink Transitions Ceremony on Friday at 4 p.m. in Hendricks Chapel, followed by school spirit festivities on the Quad before the 7 p.m. football game against Pittsburgh. Theater lovers can attend a musical at 8 p.m., presented by the Department of Drama at 820 East Genesee Street, titled  "Merrily We Roll Along." Tickets are available at vpa.syr.edu/drama or 315-443-3275.
On Saturday morning, the deans will be hosting breakfast in their respective schools and colleges. Attendees are welcome to drop into Career Services for an open house, or to learn more about SU Abroad at the study abroad fair in the Maxwell School's foyer and auditorium. Golf fans can play the scenic course at Drumlins Golf and Country Club near SU's South Campus; seniors will receive their class rings at the official ring ceremony in Hendricks Chapel; and music enthusiasts are able to experience a performance from several of the student a cappella groups in Hendricks Chapel. Additionally, master hypnotist Pete Mamos '95 will conduct two free shows in the Schine Underground, at 3 p.m. and 9 p.m.
Saturday evening activities include concerts by ensembles in the College of Visual and Performing Arts; the Family Affair Reception in the Schine Student Center, hosted by the Office of Multicultural Affairs; and a concert by the Black Celestial Choral Ensemble at Hendricks Chapel.
As the weekend concludes on Sunday, the Goldstein Alumni and Faculty Center will host a brunch and a diversity of religious services will be available.
A complete schedule of the weekend's events can be found at http://parents.syr.edu/_documents/family-weekend-2012-schedule.pdf.
To register for Family Weekend 2012, go http://parents.syr.edu/apps/familyweekend. There is a registration fee of $40 per family, as Family Weekend is a self-supporting event. The registration fee is not a direct charge for parking or any specific event.
For more information on Family Weekend 2012 or the Parents Office, please contact Bench at cobench@syr.edu, or 443-1200.