Arts & Culture
Distinguished conductor Doreen Rao to lead 10th Annual Women's Choir Festival, concert Oct. 27
Distinguished conductor Doreen Rao will be the guest conductor for Syracuse University's 10th Annual Women's Choir Festival and concert on Saturday, Oct. 27. The theme of the festival, which is the first event of the 2012-13 SU Women's Choir season honoring 125 years of "Women in Song" at the University, will be "Shanti, Pacem Peace: Women as Peace Makers."
More than 200 high school, collegiate and adult women singers from New York State and Kingston, Ontario, Canada, will join forces with members of the percussion area in SU's Rose, Jules R. and Stanford S. Setnor School of Music and the SU Symphony Orchestra to present a concert on Oct. 27 at 4 p.m. in the Rose and Jules R. Setnor Auditorium, Crouse College. The concert is free and open to the public. Free and accessible parking is available in the Q-1 lot; additional parking is available in the Irving Garage. Campus parking availability is subject to change; call 315-443-2191 for current information.
The festival, under the artistic direction of Setnor School faculty member Barbara M. Tagg and hosted by the SU Women's Choir, will include Rochester's Rush-Henrietta High School Bel Canto Singers with Brian Bohrer, director; Cicero-North Syracuse High School Women's Choir with Caryn Patterson, director; Buffalo State Women's Chorus with John Fleischman, director; Buffalo Master Chorale Women's Ensemble, prepared by Fleischman; and Canada's Cantabile Women's Chorus with Mark Sirett, director. Sirett will also serve as composer-in-residence for the festival, which opens with his composition "Shanti (Peace)" under Rao's direction, and for which the concert was named.
Under the direction of Rao, David Brunner's "Earthsongs" will be performed with orchestra, and the concert will conclude with "Amani (Peace)," which includes members of the percussion area in the Setnor School's Department of Applied Music and Performance.
Performances by the individual choirs, interspersed throughout the concert, will include "Joy" by Jocelyn Hagen; "Waters Ripple and Flow," arranged by Deems Taylor; "Carrickfergu," arranged by Sarah Linnertz; "Sim Shalom" by Allan E. Naplan; and "Ave maris stella" by Eva Ugalde.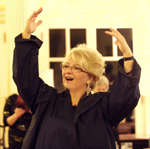 Celebrated internationally for her moving concerts and inspirational teaching, Rao's "pioneering career of firsts" changed the landscape of music education in America. Linking the standards of concert performance with the goals of music education, Rao's seminal work teaching children to sing in choirs inspired a generation of conductors and teachers to lead young choirs in schools and communities around the world. In a national tribute presented to her by the American Choral Directors Association (ACDA), the eminent American conductor Robert Shaw wrote, "The world of choral music owes her special thanks. She is preparing our future."
Toronto music critic Robert Everett-Green wrote, "for Rao, every note has an urgent meaning, not just within the composition, but within the wider world."  The "sensational and terribly moving performance" of Rao's newly edited concert edition of Bernstein's "MASS" with the Chautauqua Institute Symphony Orchestra and Buffalo Philharmonic Chorus met with unprecedented praise: "Rao's performing edition should be widely heard by audiences everywhere, though it might be foolish to expect a better performance than the one Rao gave tonight."
Journalist Bronwyn Drainie described Rao as "a brilliant artist and teacher whose methods and materials could re-energize the art of choral singing." The Phi Mu Alpha Sinfonia awarded Rao its National Citation for "her significant and lasting contribution to the cause of American music." The ACDA has honored her for her "commitment to choral excellence," and a CBS television documentary called her musical achievements "extraordinary."
For more information, contact Tagg at 315-443-5750 or btagg@syr.edu.