Campus & Community
Dalai Lama and One World Concert inspire thousands
His humble yet powerful words evoked warm applause, laughter and awe.
"Many problems we are facing is essentially our own creation," said the Dalai Lama to an audience of 24,000 at the Carrier Dome Tuesday night. The problems we've created are on not on the level of humanity, but concerned only with our differences, he explained. "We have to think more of sameness, of oneness of humanity."
America's future is interdependent on the rest of the world through our modern economy and global challenges that we all face, he said. "Now the time come you should act as a global citizen and [with a] sense of global responsibility, and that will develop oneness of entire humanity," he said.
His Holiness the Dalai Lama, the spiritual leader of Tibet, spoke for more than an hour on our shared humanity, the means to happiness and his hopes for the 21st century to wrap up his two-day visit as part of the "Common Ground for Peace" event.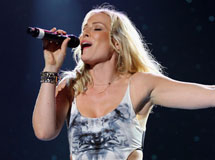 His talk was followed by a string of international performers, including Dave Matthews, Phillip Phillips, Nelly Furtado, Natasha Bedingfield and Cyndi Lauper, who took the stage for the One World Concert, one of the largest gatherings of international artists ever to travel to the region. Whoopi Goldberg was the evening's emcee for the first few acts.
As he walked onto the stage escorted by SU Chancellor Nancy Cantor after an introduction by SU Trustee Samuel Nappi, the Dalai Lama was greeted with a standing ovation. He capped his head with a visor to keep out the bright stage lights and was met with cheers—the audience's reaction to his hat decorated with the familiar Syracuse University block "S."
By turns impassioned, tender and humorous, the Dalai Lama encouraged the audience not to rely on money, power or knowledge. "The ultimate source of happiness, inner peace, is more happiness that we are already equipped with from childhood … so please pay more attention to that," he said.
He spoke of our condition as "social animals" and the crucial need that we all have to be part of a community. "No matter how powerful single person, it cannot be a happy life without community and the very survival of the single person very much depend on community," he said. "Community is ultimate source of successful life."
Building a happy, respectful community is possible through secular education that brings in moral understanding. "Existing modern education system is lacking moral education," he said. "We must approach education and moral ethics through secular. It is very possible as I mentioned earlier not based on religious belief [but] simply use of common experience, common sense."
He also encouraged feelings of compassion and respect for others as the means for joyfulness. "For my own interest, I have to take care of well-being of others," he said. "You should not consider tolerance and forgiveness as signs of weakness. No. Rather it should be a sign of strength."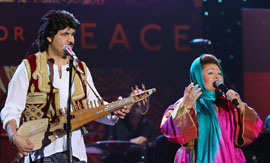 The Dalai Lama called out for audience members under the age of 30 to identify themselves and tasked them for the future to move past the wars and bloodshed of the 20th century. "People in general, particularly those generation, those people who are the 21st-century generation, you should take seriously how to build this 21st-century be a peaceful century, be a happy century," the Dalai Lama said. "That's in your own hands."
After his talk, the Dalai Lama was seated on stage to hear the all-star cast sing John Lennon's quintessential song of peace, "Imagine," followed by a set from Matthews. Matthews, who had met the Dalai Lama previously, told the audience he was raised to be aware of the Dalai Lama's principles and using "peace as a solution to problems."
Other performers included host band Don Was and his All-Star Band, David Crosby, Counting Crows, A.R. Rahman, Andy Grammer, Matisyahu, Swizz Beatz, Bebe Winans, Angelique Kidjo, Voices of Afghanistan, Souad Massi, Engelbert Humperdinck, Roberta Flack, David Sanborn, Joanne Shenandoah, Andy Madadian and Liel Kolet.
"Common Ground for Peace" was produced and sponsored by Harmony Productions, an organization established by Nappi. While traveling in India with the Venerable Lama Tenzin Dhonden—personal peace emissary for His Holiness the Dalai Lama—Nappi invited the Dalai Lama to visit SU. Nappi and Lama Tenzin Dhonden were co-chairs of the organizing committee for the peace forum.
Two symposiums on Monday and one on Tuesday gathered international thought leaders, the SU campus and the greater Syracuse community in conversations about how to shift global consciousness toward matters of peace.
The concert was produced and sponsored by Harmony Productions and hosted by Syracuse University.
To see more photos of the Dalai Lama's talk and the One World Concert, visit the One World Concert Facebook page.