Arts & Culture
Compelling, versatile Duo Diorama to perform in Setnor Auditorium Oct. 31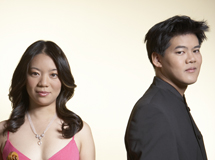 The compelling and versatile Duo Diorama, comprised of Chinese violinist MingHuan Xu and Canadian pianist Winston Choi, will perform a recital of new and 20th-century music on Wednesday, Oct. 31, at 8 p.m. in the Rose and Jules R. Setnor Auditorium, Crouse College. On the program will be music of Tan Dun, Bright Sheng, Huang Ruo, Mischa Zupko, Conlon Nancarrow and Eastman School of Music faculty member Robert Morris.
The concert is free and open to the public. Free and accessible parking is available in the Q1 lot. Additional parking is available in the Irving Garage. Campus parking availability is subject to change; call 315-443-2191 for current information.
Duo Diorama performs in an eclectic mix of musical styles, ranging from the great standard works to the avant-garde. It is a partnership with a startlingly fresh and powerful approach to music for violin and piano. Comprised of two renowned soloists who can effectively blend their distinctive personalities together to create a unified whole, the duo maintains an active performing and touring schedule.
Having performed extensively throughout North America, South America and Europe, Duo Diorama has gained a loyal following. The duo's recent appearances at the Colours of Music Festival, the Mammoth Lakes Music Festival and the GroundSwell Series were met with critical and audience acclaim. Their South American tour in 2006 included performances at the Festival Musica Nova in Brazil and Festival Encuentros. As the inaugural recipients of the Banff Centre's Rolston Fellowship in Music, they have recently toured throughout Canada, having performed in recital series from coast to coast.
Having already commissioned and premiered more than 20 works in the last few years, Duo Diorama is a leading proponent of the music of living composers. Their insightful and dynamic interpretations of music of living composers have established the duo as a true champion of contemporary music. They are committed to music from today's culture and take a personal approach to the presentation of these works—both those by the established modern masters and today's emerging young composers. Learn more at www.duodiorama.com.
The concert is presented by the Rose, Jules R. and Stanford S. Setnor School of Music in the College of Visual and Performing Arts and the Central New York Humanities Corridor. For more information or Setnor Auditorium concert status updates, contact the Setnor School at 315-443-2191.