Media, Law & Policy
College of Law Family Weekend tradition continues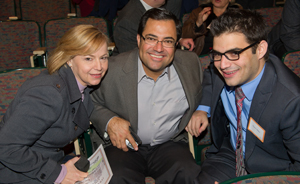 The College of Law continues its 18th annual Family Weekend and welcomes a record number of guests to campus on Nov. 3. More than 133 families from 20 states and Canada—nearly 500 people—will enjoy activities on the SU campus and reconnect with their law student.
"This is a great opportunity for families to learn more about our vibrant and diverse community through classroom experiences, mock trials and interacting with our faculty," says Michelle Wilcox, associate director of student life. "Families leave with a better understanding of how demanding three years of law school is and how to better support their student."
Family Weekend is sponsored by Dean Hannah Arterian and the Office of Student Life, which offers award-winning programs, student mentoring and academic support for students as they prepare for life in the legal profession. Most recently, they were cited as leading edge by National Jurist publication. The article mentions several aspects of the program, including communication, professionalism and leadership development, dialogue circles and community engagement.
More information can be found at Family Weekend.