Career Services hosts Career Week events Oct. 2-3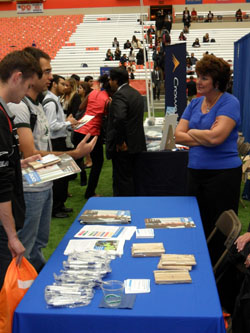 This week, Syracuse University Career Services, within the Division of Student Affairs, presents it annual Career Week programs and events, which includes the Career Fair, Resumania and Diversity in the Workplace.
The Career Fair, the most anticipated event, takes place on Wednesday, Oct. 3, from 11 a.m.-3 p.m. in the Carrier Dome. Representatives from more than 90 organizations will attend, offering students the opportunity to learn about a variety of internships and full-time job opportunities. This year, General Electric, JPMorgan Chase & Co. and Macy's/Bloomingdale's are the featured sponsors with supporting sponsorship from Cognizant Technology Solutions, Pepsi Beverages Co., the Travelers Companies and New York State Army National Guard.
Some new organizations participating in this year's Career Fair include: Amazon.com, Galaxy Communications, Forever Collectibles, Crestron Electronics, The Hartford Financial Services Group, Raymour & Flanigan Furniture, New York State Senate Student Programs, Urban Teacher Center and Uncle Julio's Corp. Students of all majors are encouraged to attend.
Students can view the full list of participating employers on OrangeLink. Students are encouraged to visit Career Services in Suite 235 in the Schine Center if they wish to meet with a career counselor and strategize their approach for the Career Fair.
"Students should come to the event with a plan," says Sue Casson, associate director of employer relations. "They should know which employers they will approach, as well as how they're going to present themselves and what types of questions to ask. We can help them craft this strategy."
In addition to the Career Fair, Career Services will host Resumania on Tuesday, Oct. 2, from 9 a.m.-3:30 p.m. in 235 Schine. This is a chance for students to have their resumes critiqued through one-on-one meetings with employer representatives. Resumania is on a first-come, first-served basis. All interested students are encouraged to attend. Employer volunteers include representatives from BDO, Everyday Health Inc., Frito-Lay, JPMorgan Chase & Co., Parsons, Stafkings and more.
"Resumania is a great opportunity for students to hear directly from employers about what they like to see on resumes," says Casson. "Our goal is to match students with employers in their desired industry so that they receive advice most helpful and relevant to them."
Career Services will also host Diversity in the Workplace on Tuesday, Oct. 2, from 5:30-7 p.m. at the Sheraton University Hotel and Conference Center. This networking event brings together students from underrepresented groups with employers seeking to strengthen their workforces through diversity. Students will showcase their student organizations to employers during a reverse career fair, and then students will network with employers during a reception. To register a student organization for the reverse career fair, contact Heaven Johnson at hjohns04@syr.edu.
For more information about the Career Fair or associated career events, contact Casson at smcasson@syr.edu, 443-3616.