Media, Law & Policy
Billboard.biz editor, Big Hassle Media co-founder to speak Oct. 4
Jem Aswad '85, editor of Billboard.biz, and Ken Weinstein, co-founder of Big Hassle Media, will present a joint lecture on Thursday, Oct. 4, at 6:45 p.m. in the Lender Auditorium, located on the concourse level of the Martin J. Whitman School of Management. The lecture is part of the Bandier Program's Soyars Leadership Lecture Series in the College of Visual and Performing Arts' (VPA) Rose, Jules R. and Stanford S. Setnor School of Music. It is open to the University community.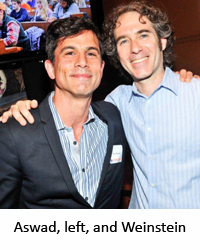 Aswad, a graduate of The College of Arts and Sciences, was named editor of Billboard.biz, Billboard's music-industry-focused web site, in January 2011. Previously he was managing editor of MTV News, serving at the company from 2004-2010. Over the course of his career he has held senior editorial posts at Time Out New York and CMJ and positions at ASCAP, Atlantic Records, Caroline Records and Warner Bros.' offshoot Collision. His writing has been published in New York, Rolling Stone, Entertainment Weekly, the Village Voice, Esquire, Suede, Bklyn, Nick Jr., Teen People and other publications, and he contributed extensively to The Trouser Press Record Guide.
Weinstein co-founded Big Hassle Media in 1999 after working as a music critic and magazine editor and in such positions as director of media relations for Atlantic Records and director of marketing at Mercury Records. Among the many bands Big Hassle has worked with over the years are Mumford & Sons, the Lumineers, OK Go, Fitz and the Tantrums, Jamey Johnson, the Gaslight Anthem, Tom Petty, Kings of Leon, Robert Plant, Gregg Allman, Silversun Pickups and the Strokes. In recent years, Weinstein started Big Hassle Online Marketing, House of Hassle Publishing and American Myth Recordings.
For more information about the lecture, contact David Rezak, director of the Bandier Program, at 315-443-3280 or dmrezak@syr.edu.