Beth Ann Kaminkow '89, president and CEO of TracyLocke Agency, to speak at SU
Career Services and the Office of Alumni Relations will bring Beth Ann Kaminkow '89, president and CEO of TracyLocke (an Omnicom global agency), to campus on Wednesday, Oct. 17, as part of the Alumni Speaker Series. Kaminkow's daylong visit will culminate with a presentation about her career at 7:30 p.m. in Watson Theater. The presentation is free and open to the public.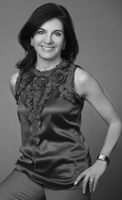 As the first female president and chief executive of TracyLocke, Kaminkow's role is dedicated to every aspect of the employee and client experience. Dividing her time between TracyLocke offices across the country, Kaminkow's past and present clients include diverse brands, such as PepsiCo, Gatorade, HP, T-Mobile, IBM, Clorox, Johnson & Johnson, Fidelity, Sony, Gillette, Philips, Research In Motion (Blackberry), YUM Brands, KAO, Sun Products, Mastercard, Playstation, Chase and Kimberly-Clark.
During her two decades in the industry, Kaminkow has touched every aspect of marketing communications across consumer packaged goods, retail, finance, restaurant and technology companies. She is a strong advocate of insights-inspired marketing programs, and was a pioneer in strategic-planning research methodologies. In her view, strategic planning and measurement are fundamental to a true business partnership between client and agency.
Kaminkow has led TracyLocke's transformation into an agency that creates commerce-driving content. This has landed the company in the top three of shopper marketing agencies for five years running and the 2011 Promo Agency of the year. She is a thought leader in this area, writing articles, publishing white papers, speaking at conferences and consulting with clients.
In 2011, Kaminkow was named one of Ad Age's Women to Watch and a Woman of the Year by the Dallas Business Journal. In 2012, she was honored by the National Association of Professional Women.
The Alumni Speaker Series is a collaborative effort of Career Services and the Office of Alumni Relations, which brings SU alumni back to campus each semester to share their career stories.
For more information about the Alumni Speaker Series, contact Kim Brown at kmbrow04@syr.edu  or 443-3616.