Remembering Bassel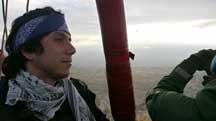 Shortly before his death in his homeland of Syria last May, graduate film student Bassel Shahade was thinking of his friends back at SU. "The last e-mail I have from him was on May 21st," says College of Visual and Performing Arts film professor Owen Shapiro. "He wrote 'Say hi to everyone there. I will try to stay alive. Hoping to see you soon.'"
Seven days later, on May 28, word quickly spread among students, faculty and staff—and through worldwide media—that Shahade, 28, had been killed while working as a citizen journalist and training amateur videographers to help document the violence taking place against the Syrian people by government security forces.
His friends and members of the campus community reacted with a purpose.
A friend of Shahade's, Mireille Bakhos G'13, organized a candlelight vigil on the steps of Hendricks Chapel and within 24 hours plans were under way for a memorial in his honor in the fall. Shapiro, VPA Dean Ann Clarke, Chancellor Nancy Cantor, Hendricks Chapel Dean Tiffany Steinwert and Bakhos, among others, gathered to start organizing what now has become a day of remembrance on Oct. 10 with a memorial service, symposium and concert.
"At Hendricks Chapel, after any student's death, we immediately reach out to that student's friends and school. It's very important that the community both grieve and celebrate the life of the person they have come to know and love during their time here," Steinwert says. "Bassel's death resonated around the world. In some sense, the urgency was magnified by the outside world."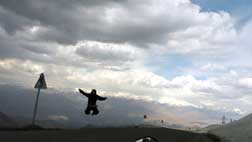 Through the day of remembrance, Bakhos wants people to know Bassel and the work he was doing in Syria to help spread the words and pictures of what was happening. "His message was freedom—freedom of being and dignity of living. He wanted this through peace," says Bakhos, who is from Lebanon and met Shahade at last year's SU Human Rights Film Festival. "If we want to remember him in a good way, we should try to spread the cause he died for."
Shapiro, who is the artistic director of the Syracuse International Film Festival, also decided to dedicate this year's film festival, Oct. 11-14, to the theme of social justice and to Shahade, who was the director of the videography archival team for the festival in 2011. The Filmmaker Award for Peace and Social Justice is also being established in Shahade's name to honor the best film dealing with those themes.
"As soon as I heard about Bassel, aside from just being shocked and terribly saddened by his death, I knew there was some way we had to recognize what Bassel had done," Shapiro says. The festival typically has two showcases, one of which has been peace and social justice, so to expand it to the entire festival was a natural extension, he says.
The October 10 day of remembrance will begin with the memorial service at 10:30 a.m. at Hendricks Chapel. The service, which was designed by Shahade's friends with Steinwert's guidance, will include remembrances from friends at SU and in Syria who've written testimonies that will be read during the service.
"This moment at Hendricks Chapel is to comfort his family and friends," Steinwert says. "If the world gathers meaning out of it, that's wonderful, but it's important that we never lose sight of Bassel's humanity. He was someone people knew, loved, hugged and touched; not just a symbol, but a person."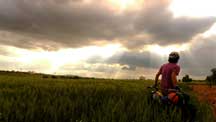 Bakhos, who will be speaking at the service, hasn't yet composed what she will say, but the words come easy when describing her friend. "He's someone who was in love with life. He took road trips alone on his motorcycle to Turkey, Iran and Pakistan to discover himself, discover cultures and people," says Bakhos, a linguistics student and teaching assistant. "He died because he discovered how beautiful life could be and he wanted that for Syria."
The memorial service will be followed by a symposium at 2 p.m. in 220 Eggers Hall on Shahade and Syria, featuring musician and educator Mohamed Alsiadi, pianist and composer Malek Jandali, journalist Rami Khouri '70, G'98, and James B. Steinberg, dean of SU's Maxwell School of Citizenship and Public Affairs. Jandali and Alsiadi will perform at a concert at 7 p.m. in Setnor Auditorium, Crouse College. Both the symposium and concert will screen several of Shahade's short films. The concert with Jandali and Alsiadi is presented in conjunction with the 2012 Syracuse International Film Festival. Ticket sales will go to support the festival award in Bassel's name.
The day is sponsored by Laila Kobrossy Audi and Edward Audi, with additional support from VPA's film program in the Department of Transmedia and SU's Graduate Student Association.
Laila Kobrossy Audi was involved in helping to select films for the festival's Peace and Social Justice Showcase. When Shapiro told them about the memorial service, Laila and Edward, who are originally from Lebanon, decided to sponsor the memorial day's events. "We care deeply about what's happening in Syria," says Laila, who is the technology commercialization manager at Blue Highway, based in SU's Center for Science and Technology. "Lebanon is a neighboring country that is still suffering the consequences of the 1975 Lebanese civil war, and it's heartbreaking to see it's happening in Syria."
Laila Audi, who is honorary chair of the day's events, has been in contact with Shahade's friends in Syria. "They know there are friends, teachers and a community who care deeply about Bassel and are remembering him," she says. "You just need to watch one of his short films to understand his beautiful art and how amazing his message was. He was peacefully trying to promote positive change."
A Fulbright Scholar and native of Damascus, Shahade was pursuing a master of fine arts degree. Even before Shapiro met Shahade in fall 2011, he knew of Shahade's budding abilities as a filmmaker from his short film, "Saturday Morning Gift."
"That's one of the things we saw in his application. We knew he had talent," Shapiro says.
Although Shahade, who was in Shapiro's film theory and film production classes, immersed himself in the program, Shapiro and others knew of Shahade's yearning to return to his country. "He said he felt guilty and he needed to be with his people," Shapiro says. "We all were very scared for him."
Shahade was also worried. "He knew it was a big decision to leave a peaceful life and go back to Syria," Bakhos says. "In the beginning, I tried telling him not to go, because he was my friend. I loved him. I didn't want to lose him. Then I realized I don't have the right to say this if that is what makes him happy."
Months after his death, the fighting continues. According to the United Nations, more than 18,000 people, mostly civilians, have died since the start of the revolution last year.