Media, Law & Policy
Bahraini journalist Lamees Dhaif honored by SU's Newhouse School with Tully Free Speech Award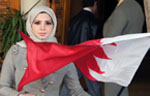 Lamees Dhaif, an independent Bahraini journalist and human rights activist, will come to Syracuse University on Monday, Oct. 15, as the recipient of the 2012 Tully Award for Free Speech. The award, presented annually by the Tully Center for Free Speech in the S.I. Newhouse School of Public Communications, is given to a journalist who has faced a significant free speech threat. Follow on Twitter at #TullyAward.
"We are excited to bring Lamees to Syracuse, and to hear her stories," says Tully Center director Roy Gutterman. "Our students and community can learn a lot from her and reflect on the role of reporters who take great risks to report the news."
The award ceremony will be held at 7 p.m. in the Joyce Hergenhan Auditorium in Newhouse 3. Dhaif will also visit SU classes and meet with students during her time on campus.
Dhaif has worked for several newspapers in Bahrain including Akhbar Al-Khaleej, Sadaa Al Isbou'a, Al-Qabas, Al-Afaaq and Al-Waqt. Following widespread government censorship in response to massive anti-government protests in the capital, Manama, Dhaif took to Twitter, Facebook and her blog (lameesbahrainperceptions.blogspot.com/), covering the Arab Spring in Bahrain.
Dhaif has endured several challenges to free speech, including a 2009 legal complaint for insulting the judiciary after she wrote a series uncovering allegations of bias against women in Bahrain's family courts. Though the case was dropped, officials made it clear that they could revive the charges at any time. Following large-scale anti-government protests in the spring of 2011, Dhaif was again called into court for criticizing the regime. These charges were also dropped, but the stakes were raised when pro-government forces wielding Molotov cocktails attacked her home.
Despite these threats, she has remained unbowed in her hard-hitting criticism of the government's attempts to suppress the protest movement. In addition to her large social media audience and reporting published on her blog, she also writes a weekly column for the Saudi newspaper Alyaum and presents a television program on the Kuwaiti television station Al-Rai.
She has received several awards for her reporting, including a 2008 Excellence Award in Journalism from the Regional Conference on Women, and has been honored as the best writer by the Women's Union at the 2009 International Women's Day.
She holds a bachelor's degree from the University of Kuwait, several post-graduate degrees in media, a master's degree in media legislation from Ahlia University in Bahrain and a master's degree in information and public relations from Cairo University.
The event is free and open to the public. For more information, contact Audrey Burian at 315-443-1930 or aaburian@syr.edu.