WellsLink scholars to be honored for academic excellence
Syracuse University's Office of Multicultural Affairs within the Division of Student Affairs will host its Ninth Annual WellsLink Transitions Ceremony on Friday, Oct. 5, at 4 p.m. in Hendricks Chapel. The ceremony honors WellsLink scholars from the previous year who have successfully transitioned through the WellsLink program and into their second year at Syracuse University. The event is open to the campus community.
"The Transitions Ceremony celebrates a successful start at Syracuse University for our WellsLink scholars and honors their first-year achievements," says James K. Duah-Agyeman, chief diversity officer of the Division of Student Affairs and director of the Office of Multicultural Affairs. "The campus community should be proud of these students for their hard work and dedication, and for making a positive impact on campus. They need our support and encouragement as they continue on their journey to fulfill their dreams of earning a college degree at Syracuse University."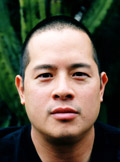 The keynote address will be given by Jeff Chang, executive director of the Institute for Diversity in the Arts at Stanford University. Chang talks about multiculturalism, race relations, student activism, political engagement, the state of the arts and the politics of abandonment. His first book, "Can't Stop Won't Stop: A History of the Hip-Hop Generation" (Picador, 2005) won the American Book Award, and his next book, "Who We Be: The Colorization of America," examines the cultural transformation of the U.S. over the last three decades. Chang was editor of "Total Chaos," an anthology examining the influence of hip-hop culture on other art forms, and has written for The Nation, The New York Times, Foreign Policy, VIBE and The L.A. Review of Books.
Named by The Utne Reader as one of the "50 Visionaries Who Are Changing Your World," Chang is noted as a racial historian. He has been a USA Ford Fellow in Literature and was a founding editor of magazine, as well as a senior editor/director at Russell Simmons' 360hiphop.com. Chang also co-founded and ran the influential hiphop indie label SoleSides, now Quannum Projects, helping launch the career of DJ Shadow, among others.
Chang grew up in Honolulu and received a master's degree in Asian American Studies from UCLA.
Campus members are welcome to attend the ceremony. Please RSVP to Huey Hsiao at huhsiao@syr.edu , or call 443-9676 by Monday, Oct. 1.