Voter registration information for students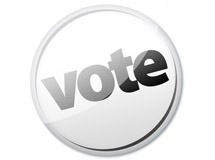 With Election Day approaching on Nov. 6, Syracuse University is involved in a national, nonpartisan effort to engage students in voter registration, education and participation. Voting is both a right and a responsibility. If you are not yet registered to vote, please consider the information below to learn how you can get involved in the electoral process this year.
 New York State Residents: In order to vote in New York State, you must be 18 years old by Dec. 31 of the year in which you apply and live at your present address at least 30 days before an election. Applications must be postmarked no later than Oct.12 and received by a Board of Elections no later than Oct. 17 to be eligible to vote in the General Election. Click here for more information and to learn about several options for registering: www.vote-ny.com.
Out-of-State Students: Out-of-state students may register to vote by completing the National Mail Voter Registration Form found online at: www.eac.gov/voter_resources/register_to_vote.aspx. You may also visit this site to contact your state election office: www.eac.gov/voter_resources/contact_your_state.aspx.
To order a print version, contact the U.S. Election Assistance Commission at 866-747-1471. After filling out this form, you must send it to a state or local election office for processing. See state-specific instructions included in the form for additional information. The national form also contains voter registration rules and regulations for each state and territory.
For additional voter information and resources, visit SU's Office of Government and Community Relations webpage at: gcr.syr.edu/students/voting.html. Questions can be directed to their office at 443-3919.