Arts & Culture
Syracuse Architecture represented at Venice Biennale
Every two years, the world's top architectural designers and thousands of visitors converge on Venice for the world's premiere architectural design exhibition. The 13th International Architecture Exhibition of the Venice Biennale, "Common Ground," organized by internationally renowned architect Sir David Chipperfield, focuses on the ways in which architects and designers contribute to a place and a community through collaboration with builders and clients, with future users and the general public. The exhibition, which runs through Nov. 25, features pavilions representing more than 50 countries and includes individual projects from such luminaries as Zaha Hadid and Herzog and de Meuron.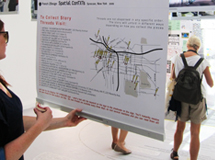 This year, two projects—one from a Syracuse Architecture faculty member and the other by two graduate students—are part of the U.S. Pavilion, "Spontaneous Interventions: Design Actions for the Common Good." The pavilion features projects initiated by architects, designers, planners and everyday citizens aimed at bringing positive change to the urban realm.
Spatial ConTXTs is a three-part, text message-based urban installation series that students in Assistant Professor Anda French's (French2D) classes explored to determine how an emerging form of common mobile communication can shape a new use and understanding of public space. One project included middle school students from Syracuse Schools and resulted in an urban video project in downtown Syracuse. Recent Syracuse Architecture grads Nilus Klingel G'12 and Stephen Klimek G'12 established Storefront:Syracuse in 2011, an abandoned storefront in Syracuse's State Tower Building that is now a student-operated hub for urban design exploration. Fostering lively exchange between the design community, city residents and nonprofit and government sectors on issues pertinent to civic life, events include exhibitions, lectures, workshops and social gatherings.
"Our students and faculty have creatively aligned with the city and campus in a wide range of initiatives that engage the community and foster a vibrant urban environment. It's an honor to have our school's creative work and commitment to the local Syracuse community recognized on a global scale," says Syracuse Architecture Interim Dean Randall Korman.