Media, Law & Policy
Student's Newhouse 3 photo featured in USA Today College Guide Magazine
As a senior dual major in advertising and international relations and a dual minor in political science and psychology, Allyssa Kaiser has a wide range of interests. But one passion she has pursued since high school still remains: photography.
A senior in the S.I. Newhouse School of Public Communications, Kaiser is one of 15 students nationwide to have campus photography published in USA Today College Guide Magazine.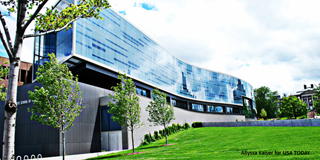 "I think that everybody should have an artistic hobby or passion," says Kaiser. "… photography is an outlet for me to express myself."
Kaiser captured the winning picture of Newhouse 3 the summer before her freshman year, while attending SummerStart. Taking advantage of the nice August weather, Kaiser snapped the shot of the building from Waverly Avenue. Kaiser believes that angle gives her picture an edge above the rest.
"It's my favorite picture that I've ever taken of Newhouse," says Kaiser. "Every year I try to get ones that are just like it and nothing has ever compared. It's one of my favorite photos."
Kaiser became interested in photography while attending the Perpich Center for Arts Education, a boarding school in Minnesota focused on the arts.
Kaiser says having an arts education background has given her an upper hand at school and at internships.
"It's always been such a good skill to have on the back burner," she says.
She has used this skill while interning with Euro RSCG and Eric Mower + Associates.
It comes as no surprise that when Kaiser heard of the USA Today College Guide Magazine contest on Twitter, she jumped at the opportunity. In fact, she takes so many pictures of campus that when USA Today contacted her saying her photo had been chosen, she couldn't remember which one she had submitted.
"I was really excited because Newhouse is such a great school, and it's nice to be able to do my part in promoting it in a way that the staff necessarily can't," she says.
Kaiser hopes to pursue a career in advertising, but is confident that photography will play an important role in her life, in and out of the office.