Bandersnatch Music Series to host Kid Ink, Skizzy Mars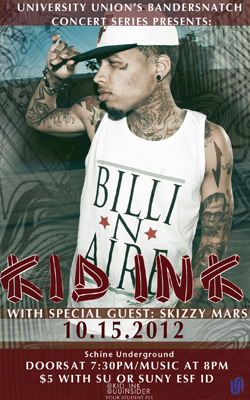 Rapper Kid Ink will headline University Union Concerts' first Bandersnatch Music Series show of the semester on Monday, Oct. 15. Rapper Skizzy Mars will open the show, to be held in the Schine Underground. Doors open at 7:30 p.m. and the music starts at 8 p.m.
Tickets will go on sale on Wednesday, Sept. 19, at 11 a.m. and will be available at the Schine Student Center Box Office. Ticket sales will be open to all Syracuse University and SUNY College of Environmental Science and Forestry students for $5; there is a limit of two tickets per person. A valid student I.D. will be required to purchase tickets.
Kid Ink, 24, is a rapper, producer and songwriter from Los Angeles. His debut album, "Up & Away," dropped June 12 and peaked at No. 2 on the rap charts and at No. 3 on the R&B charts. Kid Ink previously released three mixtapes: "Crash Landing," "Daydreamer" and 'Wheels Up." He got his start producing and working with multi-platinum artists such as Sean "Diddy" Combs, Sean Kingston and Yung Berg.
Skizzy Mars is an alternative rapper from New York City who has been garnering attention on numerous online music blogs. His top songs include "Douchebag," "Profound" and a cover of Grouplove's first hit, "Colours." Skizzy Mars has played major festivals, including Bamboozle in May.
For questions or for more information, contact Sarah Fleisher, director of public relations for University Union, at press.uu@gmail.com For the latest updates on all University Union events, follow UU on Twitter at www.twitter.com/uuinsider and Facebook at www.facebook.com/universityunion.