Turntable.fm's Jordan Davidoff to speak Sept. 27
Jordan Davidoff, artist relations pro for Turntable.fm, a social music service that launched in 2011, will give a talk on Thursday, Sept. 27, at 6:45 p.m. in the Lender Auditorium, located on the concourse level of the Martin J. Whitman School of Management. The lecture is part of the Bandier Program's Soyars Leadership Lecture Series in the College of Visual and Performing Arts' (VPA) Rose, Jules R. and Stanford S. Setnor School of Music. It is open to the University community.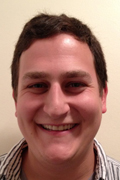 During his college years at the University of Texas at Austin, Davidoff spent a summer interning in the music programming and label relations department of Apple's iTunes, and the opportunity eventually turned into a full-time position. Within a year he was promoted to pop music editor, working on innovative sales and promotional campaigns with Apple's chief tastemakers. In addition to pop music, Davidoff came to oversee all initiatives related to reggae, world, stand-up comedy and music videos.
After more than five years at iTunes, Davidoff took on his current role at Turntable.fm in November 2011. He works with artists, labels, managers and brands to organize artist-hosted and brand-sponsored online events for the innovative music service. He organized the company's SXSW 2012 presence, which included two concerts attended by more than 2,500 fans. These events marked Turntable's first official brand partnerships—with Pepsi and Intel serving as co-sponsors—and set the tone for Turntable's ongoing marketing campaigns, on- and offline.
For more information about the lecture, contact David Rezak, director of the Bandier Program, at 315-443-3280 or dmrezak@syr.edu.