The Third Thursday (Th3) opens Sept. 20 for the 2012-13 season
Th3 (The Third Thursday) has announced the start of the 2012-13 season, Sept. 20, bringing cultural and visual arts events and attractions to the Syracuse and greater Central New York community.
The season will begin with numerous exhibitions and events related to "The Other New York: 2012," a community-wide, multi-venue biennial exhibition that is the result of a major collaboration among 14 venues in Syracuse. This ambitious project aims to highlight the rich talent of artists across Upstate New York, with a special focus on Central New York and the surrounding counties. TONY exhibitions will be presented at nine of the Th3 venues throughout the fall exhibition season.
Also this season, three new Th3 venues have been added: bc Restaurant, Syracuse Ceramic Guild and 601 Tully. Th3 (The Third Thursday) is a consortium of 22 Syracuse arts venues that coordinate free monthly visual arts events from 5-8 p.m. on the third Thursday of each month.
ArtRage – The Norton Putter Gallery
505 Hawley Ave., 218-5711
Exhibition on view: "TONY: 2012 (The Other New York)"
Ben Altman, Neil Chowdhury, Bob Gates and Paul Pearce present work that, while distinctive, shares a key characteristic. All are documentary photographers who are a bit wary of being seen as truth tellers.
bc Restaurant
247 W. Fayette St., 701-0636
5-7 p.m.: Artist's reception for the exhibition: "Rachel Harms: Persistent Icons"
Community Folk Art Center
805 E. Genesee St., 442-2230
7:30 p.m.: Opening performance for the highly anticipated music series "A Journey through Music of the African Diaspora"
Carolina Kim will open the series with a performance in Latin American traditional/folk music. Accompanied by John Heard and Victor Lopez, this will be their first performance as a trio. Kim's performance will also include a guided tour of the genre.
Eureka Crafts
210 Walton St., 471-4601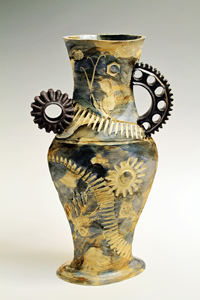 5-8 p.m.: Opening reception for: "Academic Art … Teachers that Do"
Featuring the work of Fayetteville-Manlius High School art teachers Ellen Haffar and Len Eichler.
Light Work/Robert B. Menschel Media Center
316 Waverly Ave., 443-1300
Exhibitions on view:
"Bittersweet/Bloodwork," featuring photographs by Susan Worsham
"The Other New York: 2012," featuring work by Sarah Averill, Bang-Geul Han, Mark McLoughlin, Jan Nagle and Matthew Walker
The Link Gallery @ The Warehouse/ PAL Project
350 W. Fayette St.
Exhibition on view: "Looking Back: Images from PAL Project Collection"
Petit Branch Library
105 Victoria Place, 435-3636
Exhibition on view: "Outlandish Way"
The colorful photos of William Rollins Hall, Jr., explore his technique of digitally altering the photos to give them a surreal quality.
Point of Contact Gallery
914 Genesee St., 443-2169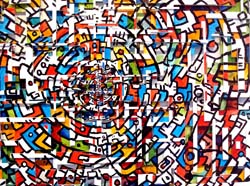 Opening reception 6-9 p.m. for the exhibition "INK GEOGRAPHIES," a show by Oscar Garcés
The gallery presents the first solo show by Cuban-born, Syracuse-based artist Oscar Garcés, as part of "The Other New York: TONY 2012." This program also commemorates the celebration of Hispanic Heritage Month at Point of Contact.
Special Collections Research Library (*note, SCRC closes at 7 p.m.*)
6th Floor, E.S. Bird Library, Syracuse University
Exhibition on view: "Assembly-line Architecture: Repetition and Innovation in the Work of Marcel Breuer"
SUArt Galleries
Shaffer Art Building, Syracuse University, 443-4097
Exhibitions on view:
"Karl Schrag: Memories and Premonitions"
"The Other New York: 2012"
"Ben Shahn and the Passion of Sacco and Vanzetti"
"Collecting Focus: New Prints and Photographs"
Syracuse Ceramic Guild
112 Wyoming St. #119 (in the Delavan Center building), 751-2529
The Syracuse Ceramic Guild presents a two-person exhibit and sale featuring the work of Zach Dunn and Ray Kowalski.
Szozda Gallery
501 W. Fayette St.
Exhibition on view: "An American Vision—East Meets West"
New works by two popular local artists, Phil Parsons and Bob Niedzwiecki. This exhibit reveals the striking beauty between the vastly different American landscape of lush vegetation of Central New York versus the dry earth of the American South West.
Urban Video Project
820 E. Genesee St. (Syracuse Stage)
401 Harrison St. (Everson Museum)
Everson Museum UVP
On View: Karen Brummund, 401 Harrison St., part of "The Other New York: 2012"
Syracuse Stage UVP:
On View: Jenny Holzer, "For Syracuse, 2010"
The Warehouse Gallery
350 W. Fayette St, 443-6450
Exhibitions on view:
Main Galleries: "Lov U," a multi-media installation by Senga Nengudi
Window Projects At The Warehouse Gallery, Viewable 24/7: "The Other New York: TONY 2012," featuring Jeffrey Einhorn's site-specific installation "A Portrait of the Artist as a Giant Deflating Head"
Westcott Community Art Gallery
826 Euclid Ave., 478-8634
5-7 p.m. Meet the Artist Reception for "Wild New York," featuring photography by Chris Murray
XL Projects
307-313 South Clinton St., 443-2542
6-8 p.m.: Opening Reception for "The Other New York: 2012"