High school kicks off SUPA Academy with academic pep rally
As an inner city school, Murry Bergtraum High School—located in Manhattan's Lower East Side—may face many challenges, but that has not stopped it from believing and investing in its students.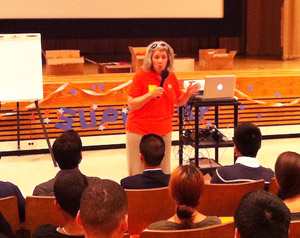 One way Murry Bergtraum is showing its commitment to its diverse student population is by partnering with Syracuse University Project Advance (SUPA)—an enhanced concurrent enrollment program that offers SU courses in high schools. The school began its partnership with SUPA in 2010; this year it is moving its partnership into a higher gear by creating a SUPA Academy within the school.
Murry Bergtraum's SUPA Academy offers qualified students 15 SU introductory courses, ranging from "Introduction to Financial Accounting" (ACC 151) to "Practices of Academic Writing" (WRT 105 ). A team of 12 SUPA Academy Teachers—current Murry Bergtraum teachers trained as SU adjunct instructors—teach the courses during the school day. SUPA faculty advisers from various SU departments are working with the Murry Bergtraum teachers and, once a semester, they will visit with the school and students.
Students who pass the courses receive SU credit that can be used at SU or transferred to other colleges. Currently, Murry Bergtraum has 12 of its graduates at SU, some with as many as 22 credits in hand at matriculation.
The SUPA Academy was officially launched on Sept. 14 at "SUPA Day" on the Murry Bergtraum campus. Dubbed an "academic pep rally," SUPA Day consisted of two concurrent sessions attended by approximately 80 students. SUPA faculty advisor Marlene F. Blumin, director of the Study Skills Program in SU's School of Education, spoke about college learning strategies ("College Learning Strategies"—CLS 105—will be taught at Murry Bergtraum), and Patrick Williams of the SU Library showed the students how to use the library's advanced research tools to become information literate and to better their chances at college and career success.
"No school has put on a 'SUPA Day' before. It was outstanding!" says Murry Bergtraum SUPA Coordinator Carolyn Powell. "The purpose was to get students geared up for the fall semester and understand the importance of the courses. Representatives from the New York State Department of Education were also on hand to see our partnership with SU in action. They thought it was great!"
"SUPA Day was a celebration of learning. We called the students 'academic athletes!'" says Gerald Edmonds, SUPA director. "For some of these students, SUPA Academy will be the first real interaction they have had with university faculty and university-level instructional and course materials. At Murry Bergtraum, SUPA students won't just be talking about college or dreaming about it—they'll be living and learning it!
"SUPA Academy is an opportunity for Murry Bergtraum students to go anywhere, if they work hard and study right," Edmonds continues. "The high school's teachers and administrators thanked us for the partnership SU and SUPA have forged with them, and the students were thrilled to receive an 'academic go-bag,' filled with pens, pencils, planners and other useful SU gear!"