Arts & Culture
SU Drama presents landmark Sondheim musical 'Merrily We Roll Along'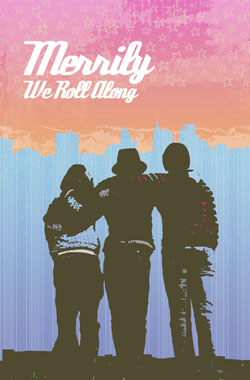 Stephen Sondheim and George Furth's legendary musical"Merrily We Roll Along" charts the rise of a songwriting team during the years of Sondheim's own young career. Starting in 1976 and running backward in time to 1955, this lively musical focuses on three individuals whose friendship is tested by time, events, ambition and fate. A masterly work by a master composer, "Merrily We Roll Along" features some of Sondheim's most brilliant and bruising songs, including "Not a Day Goes By," "Old Friends," "Our Time" and "Opening Doors."
Presented by Syracuse University's Department of Drama in the College of Visual and Performing Arts, "Merrily We Roll Along" runs Sept. 28—Oct. 7 in the Storch Theatre at 820 E. Genesee St. Tickets are $16-$18, available at 315-443-3275 or by visiting http://vpa.syr.edu/drama. SU Drama's season sponsor is WAER 88.3.
Stephen Sondheim, whose mentor was Oscar Hammerstein II, is one of the most influential and accomplished composer/lyricists in Broadway history. His works—which include "Sweeney Todd," "Into the Woods," "Company," "Follies," "Sunday in the Park with George" and many others—have accumulated in total more than 60 individual and collaborative Tony Awards.
"Working on 'Merrily We Roll Along' has been exhilarating. Sondheim and Furth have written a story rich with the tragic flaws of the human condition, and that's immensely fun to play," says Brian Cimmet, director, musical director and faculty in the Department of Drama. "If 'Merrily' is to be a show about innocence (even a loss of it) and dreams (even unfilled ones), then it takes a younger actor—just like our students—to tell that story. Our cast is a fantastic combination of energetic talent and intellectual curiosity, which is exactly the right recipe for this show."
"Merrily" begins on a lavish California estate in 1976 and ends on a rooftop on the upper West of Manhattan in 1957. The three principals, Frank, Mary and Charley, in the opening number, are about 40 years old, and at the final curtain they are about 20.
The backwards passage of time posed particular challenges for the student designers, according to Cimmet. In the area of scenic design, moving set pieces and symbolic elements help to create 10 unique locations. Costumes will reflect the iconic fashions of the different times. And in the area of lighting, the look of the show "will evolve gradually from a relatively bleak, cold and dismal outlook on life to one of innocence, joy and ambition by using a color spectrum that gets progressively warmer and more vibrant as the story unfolds," says Cimmet.
In 1994, the York Theatre Company presented a sell-out production of "Merrily" directed by Susan H. Schulman. It was such a smash, it had to be extended. It is this version that is available for license and will be performed by SU Drama. Previous productions include the 1985 revised version that received productions at La Jolla in California and Arena Stage in Washington.