Bamboo flutist Steve Gorn to perform Indian classical music Oct. 2
Internationally renowned bamboo flutist Steve Gorn will present an evening of Indian classical music on Tuesday, Oct. 2, at 8 p.m. in the Rose and Jules R. Setnor Auditorium, Crouse College. The concert is presented as part of the "Performance Live" course in Syracuse University's College of Arts and Sciences.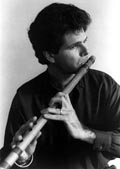 The concert is free and open to the public. Free and accessible parking is available in the Q-1 lot; additional parking is available in the Irving Garage. Campus parking availability is subject to change; call 315-443-2191 for current information.
Gorn has performed Indian classical music and new American music on the bansuri bamboo flute in concerts and festivals throughout the world. His gurus are the late bansuri master Sri Gour Goswami of Kolkata and Pandit Raghunath Seth of Mumbai, whom he often accompanies in concert. He also studied with the late Ustad Z. M. Dagar.
During the past decade, Gorn has often performed in India, appearing at Bharat Bhavan in Bhopal, Triveni Hall in New Delhi, the Sangeet Research Academy in Kolkata, the National Centre for the Performing Arts, the Nehru Centre in Mumbai and numerous other venues. His performance with Pandit Ravi Shankar's disciple Barun Kumar Pal at Kolkata's Ramakrishna Mission was televised throughout India.
Gorn's numerous recordings include "Luminous Ragas"; the landmark Indian-jazz fusion recording "Asian Journal"; and "Pranam," a jugalbandi with Barun Kumar Pal playing hansaveena and Samir Chatterjee on tabla. His latest recording is "Rasika," with tabla by Chatterjee.
For more information or Setnor Auditorium concert status updates, contact the Setnor School at 315-443-2191.