Media, Law & Policy
Social media become vital tool in business, presidential campaign
When U.S. Sen. Barack Obama won the presidency in 2008, the young Democrat's victory made history in more ways than one. It not only shattered the color barrier to the highest office in the land, it also heralded social media as a powerful—and powerfully underestimated—strategic tool that aspiring politicians from that day forth would ignore at their peril.
Four years later, both President Obama and Republican challenger Mitt Romney maintain a prominent presence on Facebook, Twitter and other social media platforms. And for good reason. Once primarily the domain of tweens, teens and young adults, social media use in recent years has exploded—particularly among those 50 and older—morphing from a casual means of reconnecting with old friends into a vital marketing strategy deployed across all sectors of society, from corporate boardrooms to the halls of Congress.
The burgeoning popularity of social media technologies has been a driving force behind Maxwell School Assistant Professor Ines Mergel's academic research, inspiring her to explore how social media innovations are being adopted and utilized across the government sector on a daily basis. And in a new graduate course this fall, "Social Media and the 2012 Election," Mergel is using the presidential campaign as a compelling lesson on how social media can be used in real time to shape messages, control crises, motivate donors, build support and engage citizens. The goal, she says, is to make students proficient in the use of those technologies and mindful of the ways they can be applied appropriately to the students' own professional endeavors, whether they aspire to a career in the government, nonprofit or corporate sector.
"Social media is used today in all areas of professional life—and on an ongoing basis," says Mergel. "It's about a larger goal, an effort to create public value. With nonprofits, it's all about getting volunteers, micro-donations and motivating for a larger cause. In the corporate sector, it's about research and development, and about exploration of customer attitudes and wants. I want to help students think through the strategies of a social media campaign and how they can use these technologies to help fulfill their mission."
In Mergel's class, created in partnership with School of Information Studies Assistant Professor of Practice Anthony Rotolo as a collaboration with his own undergraduate-level course "#ElectionClass," students track candidates' day-to-day social media activity; generate their own tweets and blog about the nominating conventions, debates and other campaign milestones; and, for a final project, devise a social media strategy for an organization of their choice. Along with Rotolo's class, they also will host a series of guest speakers, helping them understand how social media lessons of the campaign can be applied to regular governing activities.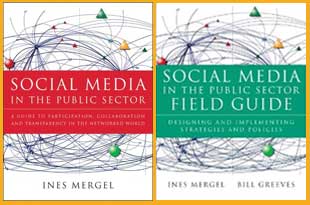 Mergel, whose book "Social Media in the Public Sector" and companion field guide are set for publication this fall, says that social media sites stand to gain even more significance as they take on functions typically associated with news organizations. In a partnership with USA Today, for instance, Twitter maintains an online "election meter" that tracks the candidates' day-to-day popularity based on the number of positive or negative comments making their way through the twittersphere.
The benefits of social media to the candidates are clear, says Mergel. "They get instant feedback on where people are on the issues," she says. "We no longer have to wait for reporters to show up on the scene. The news comes through observers, snowballing through the network and gaining momentum."
The downside? "The candidates know they can no longer control the message," she says. And while candidates for national office may be particularly vulnerable to the unforgiving nature of social media missteps, Mergel hopes one of the big takeaway lessons for her students—whatever their professional goals—is this: "You have to know what's appropriate and what's not," she says, "because what you tweet is out there forever. It isn't going away."
(Professor Mergel's thoughts on the use of social media in the public sector can be read on her blog: http://inesmergel.wordpress.com and on Twitter: http://www.twitter.com/inesmergel.)