Campus & Community
Sept. 27 'Manufactured Landscapes' documentary launches SUstainable CommuNitY Film Series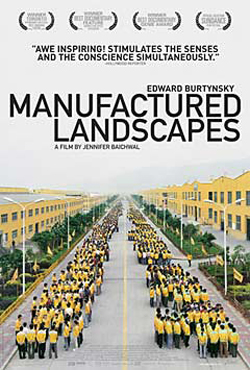 Here's your chance to engage others in the campus community about regional and global problems—and enjoy dinner and a movie!
The SUstainable CommuNitY Film Series will kick off with a screening of the multiaward-winning documentary "Manufactured Landscapes" on Thursday, Sept. 27, at 6:15 p.m. in the Noble Room of Hendricks Chapel. The event will start with a modest meal. After the film, Professors Steven Brechin (sociology) and Peter Wilcoxen (economics) will facilitate a conversation around the movie's sustainability implications. Admission is free and open to students, faculty and staff.
"Manufactured Landscapes" explores a fast-changing China under the impact of the country's massive industrial revolution, through the lens of renowned photographer Edward Burtynsky. The astonishing large-scale photographs taken by Burtynsky reveal China as "the world's factory" and a dumping ground for our wasteful lives. The film also looks at the lives of the Chinese people who are caught in this industrial revolution.
The SUstainable CommuNitY Film Series will run throughout this fall semester and feature five award-winning documentaries, each addressing a different sustainability challenge. The series is sponsored by the SU Sustainability Division and the Lutheran Campus Ministry/STEP Center at Hendricks Chapel. For more information, contact Rick Martin at 315-443-3953 or rjmart01@syr.edu.