Campus & Community
Hendricks Chapel holds day of Blessing, Reflection and Prayers on Sept. 11
Syracuse University's Hendricks Chapel will hold a day of Blessing, Reflection and Prayers on Tuesday, Sept. 11, to mark the 11th anniversary of the Sept. 11, 2001, terrorist attacks on the United States.
"Through opportunities for contemplation, blessing and engagement, we hope students will think critically about the broader issues toward which the events of Sept. 11 point us as a global community," says Tiffany Steinwert, dean of Hendricks Chapel. "These events help us not simply remember the past, but change our future."
Blessing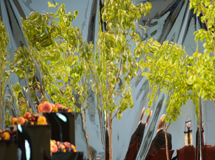 An interfaith service of blessing for the Tree of 40 Fruit, located on the Kenneth A. Shaw Quad, will be held at noon. The Chaplains' Council will lead a brief service of prayers and blessings from many faith traditions as the tree is dedicated. The Tree of 40 Fruit, created by College of Visual and Performing Arts associate professor Samuel Van Aken, was installed on the Quad last year to commemorate the 10th anniversary of Sept. 11. The tree is meant to be a symbol of hope and renewal.
Reflection
Hendricks Chapel and the Carnegie Religion and Media Program in the S.I. Newhouse School of Public Communications will host a public screening of the PBS documentary "Forgiveness: A Time to Love and a Time to Hate" by Helen Whitney. The screening will begin at 7 p.m. in the chapel and is free and open to the public. A talk-back with Whitney, moderated by Gustav Niebuhr, director of the Carnegie Program, will follow.
At 5 p.m., prior to the screening, a select group of students will join Whitney for dinner and conversation, exploring the themes evoked by her work. Space is limited; students who wish to attend must RSVP to chapel@syr.edu by Sunday, Sept. 9.
The Carnegie Program will host a public conversation featuring Whitney on Monday, Sept. 10, at 3:45 in the Joyce Hergenhan Auditorium in Newhouse 3. The event is free and open to the public.
In her work, Whitney, winner of Emmy, Peabody and Edward R. Murrow awards, brings together storytelling, journalism, filmmaking and more. She made "Faith and Doubt at Ground Zero," a film about how people interpreted the attack on the World Trade Center.
A filmmaker for more than 40 years, her documentary work has appeared on ABC's Closeup and the PBS American Masters series, as well as on FRONTLINE. Her documentaries have ranged over a wide variety of subjects, among them: youth gangs, presidential candidates, the mentally ill, a Trappist monastery, Pope John Paul II and the class structure of Great Britain.
Prayers for Hope
Hendricks Chapel will be open from 8 a.m.-4 p.m. to the SU and greater Syracuse communities for contemplation and interfaith prayer.
For more information on these activities contact Hendricks Chapel at 443-2901.