STEM
Leading expert in climate change science to present 2012 Milton First-Year Lecture
Richard B. Alley will also present a free public seminar on climate change research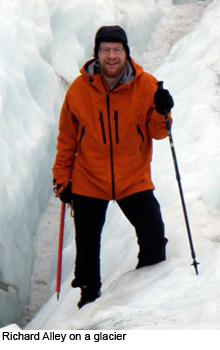 Richard B. Alley, internationally renowned expert on climate and renewable energy, will present the 2012 Laura Hanhausen Milton First-Year Lecture, hosted by Syracuse University's College of Arts and Sciences Sept. 19 at 7:30 p.m. Alley, host of the 2011 PBS special "Earth: The Operator's Manual" and author of a book by the same title, is the Evan Pugh Professor of Geosciences at Pennsylvania State University.
In addition to the Milton Lecture, which is open only to first-year College of Arts and Sciences students, Alley will present a public seminar hosted by the college's Department of Earth Sciences Sept. 20 at 4 p.m. in the Heroy Geology Laboratory Auditorium, Room 001. The seminar, "Uncorking the Bottle: Ice Sheets and Sea-Level Rise," is free and open to the public. Parking is available in SU's paid lots.
Alley's Milton Lecture will focus on "Energy, Environment and Your Future."
"We are using fossil fuels approximately a million times faster than nature saved them for us, and they will run out," Alley writes. "But there are plenty of ways to get rich and save the world by remaking our energy system."
Alley is a pioneer in the study of the world's great ice sheets in Antarctica, Greenland and Alaska. Locked inside layers of ancient ice is a record of past climate change, which scientists use to predict future changes in climate and sea level. Alley's "The Two-Mile Time Machine" (Princeton University Press, 2000) is a landmark book focused on what the Greenland ice cores reveal about Earth's past climate.
He continues the story in "Earth: The Operators' Manual" (2011) by presenting compelling scientific evidence linking rapidly rising levels of atmospheric carbon dioxide to rising global temperatures. The book also includes a fascinating history of human energy use since the invention of fire and its effect on the global environment, as well as an optimistic assessment of human resilience and the untapped potential of alternative energy resources.
Alley was a member of the United Nations Intergovernmental Panel on Climate Change, which was awarded the 2007 Nobel Peace Prize, and served on the National Research Council's Panel on Abrupt Climate Change. He has advised federal officials in the executive and legislative branches of the U.S. government across multiple presidential administrations, published more than 225 papers in leading scientific journals and is an elected member of the National Academy of Sciences.
Other honors include the Tyler Prize for Environmental Achievement, the Heinz Prize, the Revelle Medal of the American Geophysical Union, the Seligman Crystal of the International Glaciological Society, the Public Service Award of the Geological Society of America, the American Geological Institute Award For Outstanding Contribution to Public Understanding of the Geosciences and the Schneider Award for Science Communication.