New Design Gallery exhibition examines history of hand tools, woodworking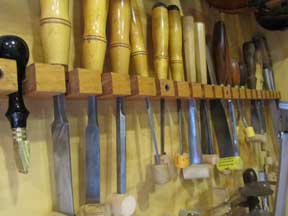 In recent years, the connection between process and product has slowly separated, creating a rift between the two. Consumers often do not know who is designing and constructing the products they buy. However, a rising movement is reuniting the experience of creating something by hand and the finished product. Craftspeople worldwide are continuing the tradition of working with their hands and their cherished hand tools, forging a connection with what they make.
"Raw Revelations: The Reunion of Hand Tools and Production," a new exhibition at the Design Gallery at The Warehouse, illuminates the idea of this connection between history, design and craftsmanship through a sensory experience for the viewers. The show invites the public to learn about the history of hand tools and woodworking, witness part of the process of creating a wooden stool by hand and find out how to reconnect the process of creating something with the final product.
"Raw Revelations" is free and open to the public through Oct. 10. The Design Gallery is located on the first floor of The Warehouse, 350 W. Fayette St., Syracuse. Patrons should enter The Warehouse via the ground-floor door adjacent to the café on West Fayette Street or the first-floor door on West Washington Street. The gallery will be open Monday-Friday, 1-5 p.m. or by appointment.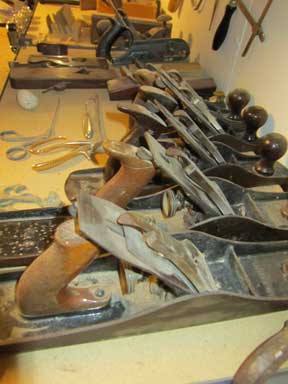 A reception and demonstrations will be held on Thursday, Sept. 27, from 6-8 p.m. During the reception and throughout the exhibition, patrons may enter a drawing for a basic woodworking tool kit, which will be on display in the gallery. The winner will be announced and contacted at the close of the exhibition.
"Raw Revelations" was created, constructed and presented through the collaborative efforts of the "Practicum" class of the graduate program in museum studies in Syracuse University's College of Visual and Performing Arts (VPA) and Zeke Leonard, assistant professor of environmental and interior design in VPA's Department of Design.
For more information or to make group reservations, contact Bradley Hudson, exhibition facilitator, at bjhudson@syr.edu.