Former U.S. Rep. Patrick Kennedy to speak at Syracuse University
Syracuse University's College Democrats and the National Alliance on Mental Illness (NAMI-SU) will host a visit by former U.S. Rep. Patrick Kennedy to Syracuse University on Wednesday, Oct. 10, at 7 p.m. in the Schine Student Center's Goldstein Auditorium.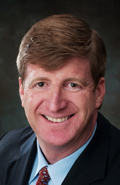 Kennedy's talk is free and open to the public, but tickets are required and are available at the Schine Student Center Box Office. Doors will open that evening at 6:20 p.m. Backpacks/flash photography will not be permitted.
Kennedy's insight on current issues facing our nation, such as reforming health care and destigmatizing psychiatric disorders, will be the centerpiece of his presentation. He is the co-founder of One Mind for Research, which seeks to increase resources and efficiency in brain disorder research.
"Not only has Patrick Kennedy been a major player in Congress, reaching across the aisle to make critical legislation pass, but I believe it is the project that he is involved with currently that will impact the lives of every American in a major way," says William Mellen, president of NAMI-SU. "He will be addressing topics that are becoming the national focus. How can Syracuse University students not want to find out more and become an integral part of it?"
In a speech to the Cleveland City Club on March 7, 2008, Kennedy acknowledged having bipolar disorder and being a recovering alcoholic. He and his brother have legal custody of their mother, who has long struggled with alcoholism.
Among the rewards received on behalf of his work include the Society for Neuroscience Public Service Award (2002), Eli Lilly and Co. 2003 Helping Move Lives Forward Reintegration Awards, American Psychoanalytic Association 2003 President's Award, American Psychiatric Association Alliance award (2003) and the Depression and Bipolar Support Alliance Paul Wellstone Mental Health Award (2003).
NAMI-SU and the College Democrats have teamed up with University Union, the Psychology Club and the Psychology Department in order to make this event possible.
For more information, contact NAMI-SU president Mellen at wmellen@syr.edu, 315-251-4345, or visit www.facebook.com/NAMIatSyracuseUniversity/events.